Holding on to Hope: A Live Virtual Event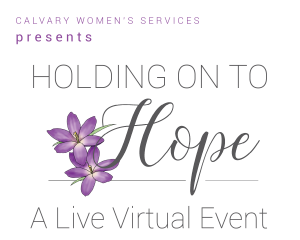 Tune in on May 13 at 7pm using this link: https://youtu.be/WTrnPBFNtUg
We have postponed the annual Hope Awards Dinner, but we will still be marking the day with a virtual event on May 13, called Holding on to Hope. We hope you will join us for an inspiring virtual live event as the Calvary community comes together to hold on to hope during this challenging time.
Postponing the Hope Awards Dinner will leave a lasting impact. This is Calvary's largest fundraiser of the year and raises close to $500,000 to keep our programs running. With the loss of this revenue and additional daily expenses of $1,000 a day, we are expecting to lose up to a million dollars in revenue this year. We need your help to keep our doors open so we can continue to provide critical, life-saving services to women who need it most. Tune in on May 13 to hear how Calvary and the women we serve are facing this unprecedented crisis, while Holding on to Hope.
SIGN UP TODAY for this free virtual event. You won't want to miss it!
DONATE NOW to help keep the women we serve safe.