July 17, 2012
Are You Ready for the Gorilla Challenge?
The Gorilla Challenge, a nationwide competition, will be held in D.C. on July 21 and we're excited to say that they're teaming up with Calvary Women's Services.  In addition to holding an exciting urban competition, the event also provides the opportunity for participants to support a local nonprofit. For their DC Challenge, they chose Calvary as their "charity spotlight."
The event is a combination of physical and mental challenges. You'll decode clues about D.C. while racing across downtown in order to win prizes. The key to winning this Amazing-Race-meets-Fear-Factor race is solving the clues, mapping them out, and taking the shortest distance to each checkpoint. Challengers can also participate in a fun costume competition!
Prizes will be awarded to the first, second and third place competitors who complete the challenge. Challengers who bring the most non-perishable to donate to the Capital Area Food Bank, as well as the winners of the costume contest, will also receive rewards.
All of us at Calvary are excited to be a part of this unique and fun event this year, and we hope you are too! If reading this post has gotten you geared up and ready to be a Gorilla Challenger, here's the info you'll need:
The Details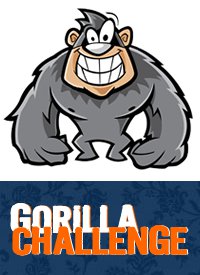 Date: Saturday, July 21st
Time: Arrive at the starting point at 9:30am for the 11:00am start. The Gorilla Challenge lasts 3 hours.
Location: The event kicks off at the Hard Rock Café, 999 E Street NW
Registration: Visit http://bit.ly/GorillaChallengeDC (Calvary supporters can get a special discounted $25 registration by entering the code "ilovecalvary").
Volunteering: If you want to volunteer at the event, email us at: info@calvaryservices.org.