August 20, 2013
Volunteer Spotlight: Jen Smyers
Volunteer Jen Smyers has spent the last six years inspiring Calvary staff and residents with her dedication and seemingly endless well of positive energy. What drives her to keep giving back to the community at Calvary? Jen took a few minutes to share some of her thoughts on volunteering.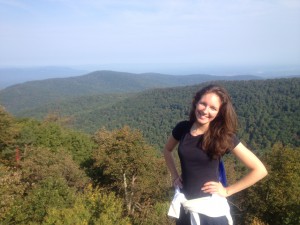 How are you involved at Calvary Women's Services?
I'm an overnight volunteer, which means I get to Calvary around 9:00 p.m., hang out with the residents, call "lights out" at 11:30 p.m., sleep some and do a few walkthroughs during the night, wake up a bit before 6:00 a.m. to set out breakfast, and then leave for work around 7:00 a.m. Typically, I spend the night at Calvary once a week, and sometimes train new volunteers. I've also walked with Calvary in the Help the Homeless Walkathon and participated in various fundraisers and donation drives.
How did you first hear about Calvary?
A friend in college told me about Calvary and the opportunity to volunteer overnight. At the time I was working full time and taking night classes, so I didn't have a lot of daylight to volunteer. Volunteering overnight was the perfect opportunity for me to make a difference despite my busy schedule. Now it's been more than 6 years, and I'm still volunteering overnight every week – I love it!
What do you like best about your work with Calvary?
Getting to know the women at Calvary – residents and staff alike. There's a lot of love, a lot of friendship, and a lot of learning from one another that happens every day at Calvary. It's really neat to be a part of that, and to know that I'm helping Calvary help women move closer to their goals for what their lives can look like in the future.
What has been your most memorable experience at Calvary?
For a few months, I worked with a tremendously courageous woman named Phyllis, who wanted to improve her reading ability to be able to read to her granddaughter. As we studied together, she rapidly transformed her word recognition and reading comprehension, and was able to read books to her granddaughter about gymnastics, animals, and all sorts of fun. Unfortunately and with little warning, Phyllis was rushed to the emergency room and passed away not long after we started working together. Her resilience, determination and warm spirit continue to inspire me, and I'm very grateful to have met her and learned so much from her while she was here.
What has surprised you most about volunteering at Calvary?
How easy it is to make a difference! Even just being at Calvary for a few hours in the evening and early morning, I've been able to meet amazing, strong and loving women who are doing their best to improve their lives. We've shared meaningful conversations, snacks, movies, laughs, beauty tips, and sometimes the sheer comfort of presence. I know I'm part of something amazing by volunteering with Calvary.
What would you tell someone considering getting involved with Calvary?
It will be worth your time and energy, and you will get more out of it than you give. By volunteering with Calvary, especially in a committed, frequent and long-term capacity, you will make a huge difference in the lives of awesome women. You'll also help Calvary keep its doors open to more women in the future, to provide them not only a place to stay, but also opportunities to grow, heal and pursue their dreams. By working in solidarity with women who are homeless in D.C., you will help bring about positive change in your community.
If you had to choose one word to describe Calvary, what would it be?
Heart!
If you would like to learn more about volunteering overnight or other volunteer opportunities, please contact Catherine Bisson at cbisson@calvaryservices.org or (202) 678-2341.