October 29, 2013
Pedaling with Purpose: Gillian's Roundabout Century Ride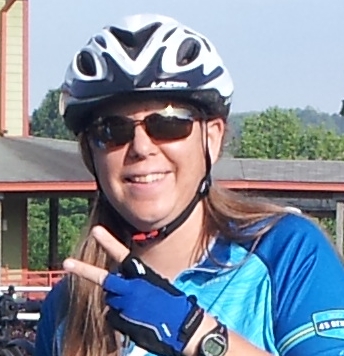 We are so fortunate to count Gillian Cook, our whip-smart IT consultant, among the Calvary community. Not only does Gillian keep our computer systems running smoothly, she's also an avid cyclist who's organized a new fundraising event in support of Calvary Women's Services!
This Saturday, Gillian and her team of cyclists will kick off the first Roundabout Century Ride, during which they'll ride to Annapolis and back on a 100-mile ride to raise funds for Calvary's programs. We're so thankful for each rider's support, and are counting down the days until the ride, but until then, meet the woman who's making it all happen.
Tell us a bit about yourself!

I'm an IT consultant and an avid cyclist. In the last six years I've ridden in a number of fundraising bike events all along the east coast. I've pedaled literally thousands of miles both training and cycling in these bike events raising a good bit of money along the way. Pedaling with a purpose is something I believe in!

How are you involved at Calvary?

I help out Calvary with some of the internal IT computer services within the organization. Geeky things like implementing computer networks, migrating email systems, rolling out new technology, setting up labs, and helping Internet circuits stay up and running. I've done fundraisers to purchase new computers for Calvary. In addition, my company helps keep the technology-based systems up and running in order that the amazing staff can use their resources and time working effectively with the women at Calvary.

How did you come up with the idea of the Roundabout Century Ride?

The idea of the Roundabout Century was organic and simple. Over the years I've cycled in a number of fundraising biking events and raised a fairly decent amount of money for those causes. A light bulb went off after one of those events when I said, "Calvary needs to have a cycling fundraiser that benefits them. I'd like to get that started."

The century idea – riding 100 miles – was established to make this an endurance event to symbolically show the endurance of the women that come to Calvary. And the endurance they have to get back on their feet and take positives strides forward.

Who are you riding with this year?

This inaugural year we have a group of approx. 10 riders and volunteers helping make this happen. A big shout-out goes to Matt Bond who is the co-organizer of the event. He's been amazing get this event off the ground. We've got riders and volunteers from Discovery Communications, World Learning and others. Next year we plan to grow the event and expand it with more riders.

What are you most looking forward to about the ride?

The finish line. No seriously, mostly I'm looking forward to the chance to accomplish something challenging, ride with some really wonderful people and help Calvary Women's Services at the same time. Truly, what could be a better way to spend a Saturday in November?