April 23, 2014
What's Cooking at Calvary: Lightened Up Shrimp and Broccoli Alfredo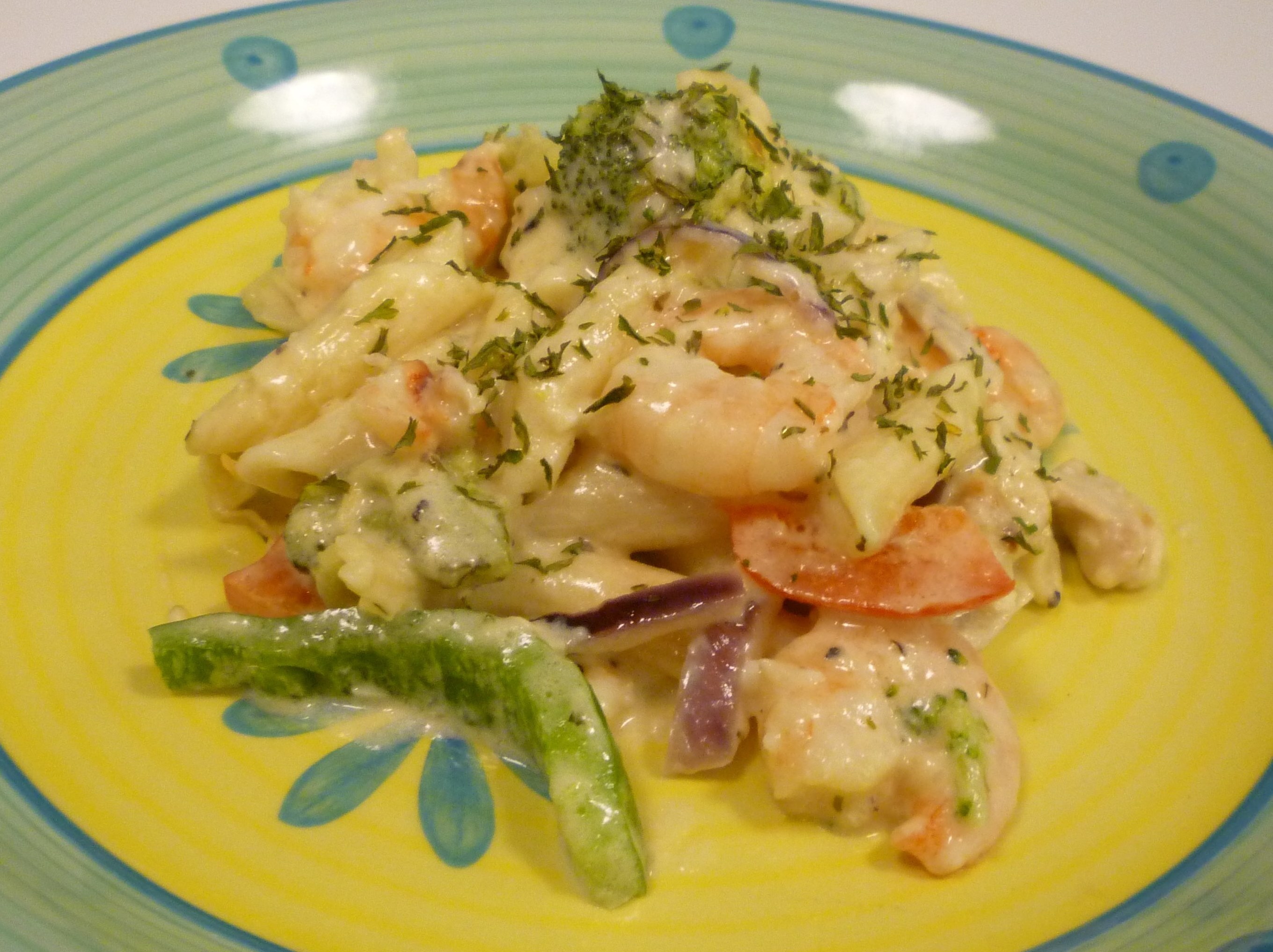 If you're a regular reader of the blog, then you may already know that our program chef, Lorna's tasty, delicious dinners have earned kudos and raves from staff, volunteers, and residents alike. She told me recently that she's even had a few requests for specific favorites to be prepared!
To call traditional favorites like fettuccine alfredo healthy might be a stretch, but luckily, Chef Lorna scales back traditionally heavy dishes like this one with ease. Residents, staff and volunteers were all delighted by last week's lightened-up version. So tip your hat to Chef Lorna, and give this springtime treat a try — you won't be disappointed!
Lightened Up Shrimp and Broccoli Alfredo
3 tablespoons butter
1 cup 2% milk
1 cup Parmesan cheese, grated
1/3 cup low-fat cream cheese, softened
2 tablespoons all-purpose flour
3 garlic cloves, minced
2 lb medium shrimp, cleaned, peeled, deveined, and cooked
1 lb penne pasta
3 cups broccoli florets
½ cup onions, sliced
1 large red bell pepper
1 large green bell pepper
Preheat oven to 350 degrees.
Slice bell peppers and onions into thin strips. Blanch broccoli in a large pot of boiling, lightly salted water for 2-3 minutes until blanched.  Using a slotted spoon, place the broccoli in ice water to cool, then drain and set aside. Cook the pasta in the boiling water according to package directions. Drain, cool, and set aside.
Melt butter in saucepan over medium-low heat. Add garlic and cook until garlic is soft but not browned, one to two minutes.  Whisk in flour, add ½ cup of the parmesan, milk and cream cheese, and stir until the mixture is smooth and slightly thickened.
In a prepared casserole dish, combine shrimp, pasta, vegetables and sauce, and mix thoroughly to combine. Sprinkle with the remaining ½ cup parmesan, cover with foil and bake for 45 minutes. Remove the foil and bake uncovered for 20 minutes or until lightly browned. Serve with a mixed green salad.