April 9, 2014
Why We Love Our Volunteers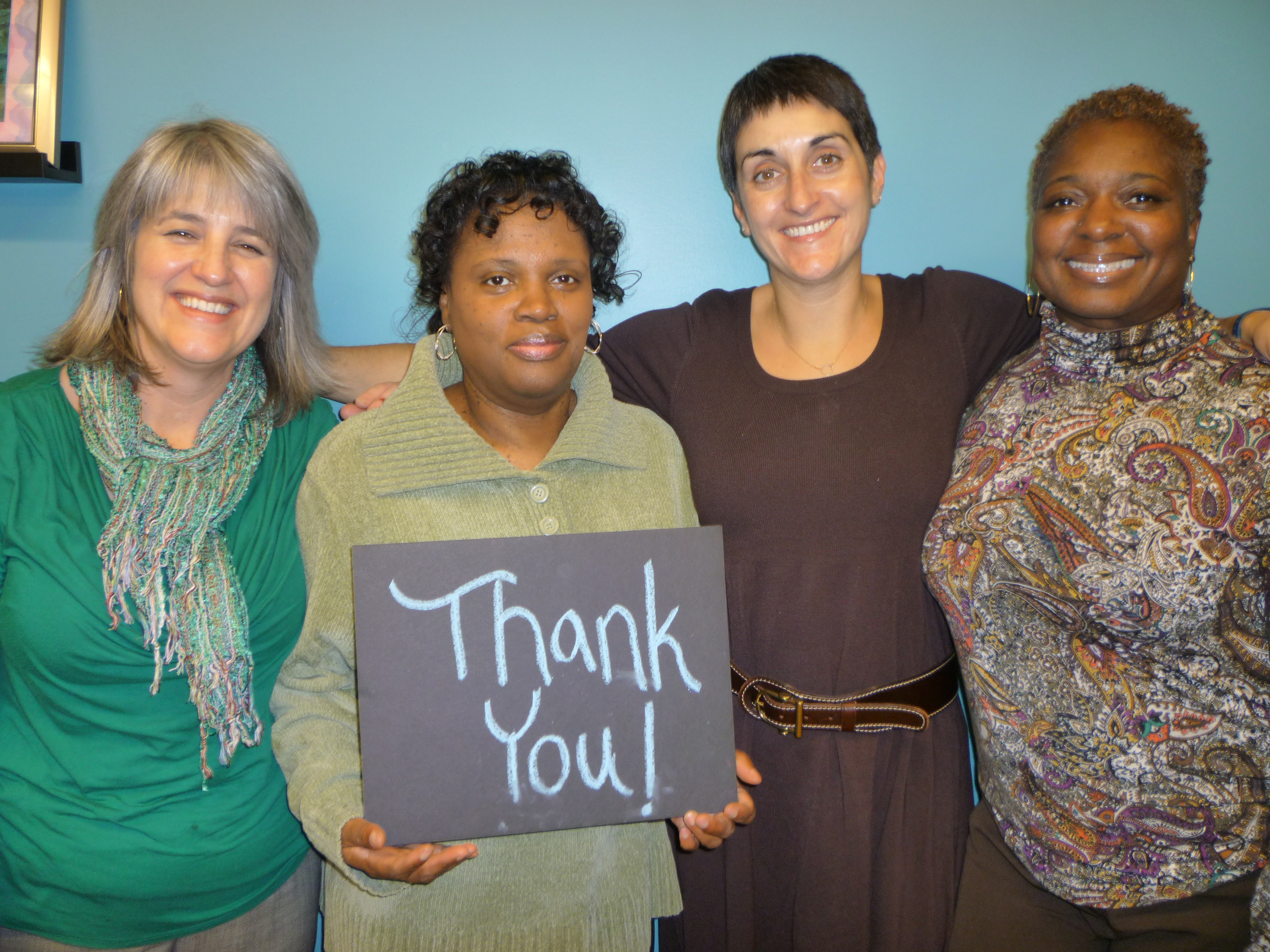 It's National Volunteer Appreciation Week, and we at Calvary Women's Services join the rest of the country in commending volunteers for the vast impact they have in their community by sharing their time and talent.
Calvary's dedicated team of volunteers helps every single day in a multitude of ways. They serve meals on site to women at Calvary, assist in administrative tasks, join crowd-funding campaigns, teach LEAP classes, host game nights and book clubs, and even stay overnight to supervise our programs! Last year, over 300 Calvary volunteers donated over 5,000 hours of volunteer service, and we are so grateful for their service!
Our committed team of volunteers is essential to the success of our programs, and their presence on site let women at Calvary know that someone cares. The time and energy they invest in our programs has an incredible impact. To our amazing crew of volunteers: thank you! We hope that you remain part of the Calvary family for many years to come!
Check out what some Calvary residents and staff have to say about these friendly faces below.
I appreciate Peter for taking the time and bringing his own supplies to make pancakes for us on the mornings of his overnight shifts. Peter is so down to earth. He takes the time to talk with us and get to know us. He has a very calming presence and gentle spirit. – Calvary Resident

I appreciate the way volunteers make our lives a little bit easier by looking out for our daily needs. I enjoy all of the different meals that volunteers bring, and I appreciate the time and care that they put in to making the meal. You can always tell it was made with love. – Calvary Resident

I love the energy and enthusiasm volunteers bring. None of Calvary's events or fundraising efforts would be possible without your help. Thank you! – Calvary Staff Member

It's so amazing that we have a volunteer monitoring the overnight shift every single night of the year! – Calvary Staff Member

I appreciate Byron. He always has breakfast ready on time and everything ready to go. He's on top his game! – Calvary Resident

Patrice is so energetic and clearly a "doer." She blows in like the wind, willing to help. – Calvary Staff Member

The ladies are always so happy when California Tortilla arrives with their delicious food and energetic spirit! Thank you for creating healthy meals for the residents. – Calvary Staff Member

Katie is amazing. She's so laid back, extremely humble, and here to make a difference. Her intentions are 100% to help the ladies however she can! – Calvary Staff Member

Corrine and her son come with a spirit to give and they are enthusiastic about serving the women. I love that Corrine involves her son in serving those in need! – Calvary Staff Member

Grace is always on time, consistent, pleasant, and open to learning. She engages so well with the residents and takes initiative in a gentle way. – Calvary Staff Member 

Thanks to Project Affinity for hosting their fun, festive game nights for the women at Calvary! They lighten my spirit and make me laugh. – Calvary Resident 

I appreciate our volunteers because they are selfless to give back in a time of great need. They could be doing anything else but they choose to be here. – Calvary Resident