July 8, 2014
Volunteer Spotlight: Alexis McCoy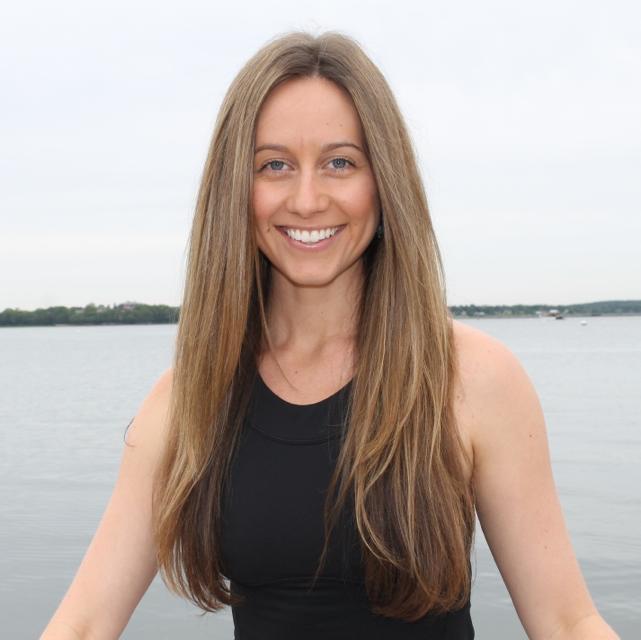 Alexis teaches a combination of Chair Yoga and Gentle Yoga as part of Calvary's Life Skills, Education, and Arts Program (LEAP). She has been an amazing ambassador for yoga to Calvary residents—many of whom have little previous experience with it. Thanks to Alexis, Calvary residents have had the opportunity to engage in yoga as a restorative and therapeutic practice on a weekly basis for the past six months. She frequently reminds Calvary residents "if you are in the room with us and breathing deeply, you are doing yoga– all other movement is optional."  That invitation really welcomes any and all to give it a try! Thank you, Alexis, for bringing your wonderful spirit to the residents of Calvary and for your endless encouragement and commitment.
Where are you from?

I'm from Millersburg, Ohio. Millersburg is a beautiful little town in the heart of Amish Country. I love going back and visiting!

Share a fun fact about yourself!

I really enjoy long distance running. I've run 10 marathons and I can't wait to run more!

Why do you volunteer at Calvary?

As a yoga teacher, I'm always excited to introduce people to this transformative practice. Volunteering at Calvary has given me the chance to not only spread the benefits of yoga to new students, but also to build a strong bond with these students.

What do you like best about your work with Calvary?

Teaching at Calvary is the highlight of my week! I love the relationships I've been able to build over time with the women of Calvary. They ask thoughtful yoga-related questions and have great requests for what they want to work on in class. They keep me on my toes!

What has been your most memorable experience at Calvary?

Over time, some of my favorite memories have been laughing with the women of Calvary. As a yoga teacher, sometimes I can take myself too seriously (especially while teaching). The women that come to my class always have an awesome sense of humor and remind me to not be so serious! It's a good reminder to laugh at myself and relax. I've learned a lot from these incredible women!

What has surprised you most about volunteering at Calvary?

I was new to teaching Chair Yoga when I started at Calvary. I was surprised at how simple yet powerful the experience can be. It's not about being able to put your leg behind your head; it's about giving yourself the time sit still and BREATHE. The women at Calvary embrace the breath work we do and always have a great sense of humor when trying something new. I've been inspired by my time at Calvary and am now teaching Chair Yoga at a new studio in Washington, D.C. called Yoga Heights. (See the schedule here.)

What would you tell someone considering getting involved with Calvary?

Calvary offers so many different ways to get involved! The entire staff is professional and friendly – always there to answer any questions. The women of Calvary are incredibly appreciative of the volunteers. When you step into Calvary, you're immediately entering one of the most loving and supportive atmospheres in D.C. It's a great place to volunteer!
LEAP Facilitators such as Alexis are committed and enthusiastic instructors who lead educational and enrichment classes on a wide variety of topics for Calvary residents on weekday afternoons. We welcome volunteers who can commit to lead ongoing classes for up to 15 participants that offer tangible skills and promote well-being. This is a great opportunity for skilled volunteers to share their knowledge—and a great chance to develop a meaningful relationship with our residents. If you would like to learn more about volunteering at Calvary, please contact Catherine Bisson at cbisson@calvaryservices.org or (202) 678-2341.