November 20, 2014
Staying Strong in Recovery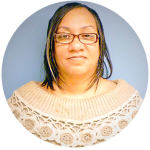 After working for decades to overcome addiction, Valaida reached a milestone just a few days ago – 15 months of sobriety. Valaida was recently recognized during a celebratory ceremony for graduates of an intensive residential addiction treatment program. She says that she felt so proud walking across the stage in a cap and gown. Now she has a special certificate, engraved keychain and tassel – not to mention a lasting sense of pride – to remind her of this achievement.
Valaida says that the last 15 months were rewarding but difficult. In the midst of her treatment program, she lost a parent, but managed to get through her grief without turning to drugs. When she first started looking for jobs after getting sober, she says that she didn't know if she was going to make it. Although she was finally sober, she says that she was not quite ready to live on her own. "I was panicking because I didn't have anywhere to go," she says.
A woman who worked with Valaida told her about Calvary Women's Services. Valaida says that when she visited Calvary, she felt like it was a place where she could continue to concentrate on her sobriety. She has been attending daily Relapse Prevention Group meetings and meeting with a therapist to stay strong in her recovery. "I'm doing what I'm supposed to do here," she says.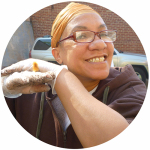 Valaida keeps a realistic view about the challenges that are still ahead. What keeps her going some days is her sense of humor. Her laugh is often heard bouncing around the LEAP (Life Skills, Education & Arts Program) learning area in the afternoons. "I just like to see people happy and smiling. I'm tired of being down," she says.