November 6, 2014
Volunteer Spotlight: Derrick Chin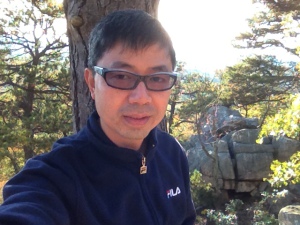 When Calvary moved to Good Hope Road two years ago, Derrick was one of many dedicated volunteers to come along with us. Derrick and his wife have been volunteering at Calvary for several years preparing and serving meals for residents in our housing programs. With his encouragement, members of their church congregation also began preparing meals alongside Derrick this year. It seems that Derrick's spirit of giving back is contagious!
Read more about Derrick's volunteer experiences below!
Where are you from?
I grew up in Rangoon, Burma (now known as Yangon, Myanmar) but have spent the last 24 years here in the DC metro area.
Share a fun fact about yourself!
When I am not at work, you will find me in my home garden growing vegetables! This past summer I grew 27 varieties of vegetables and loved sharing the harvest with my family, friends and co-workers.
How are you involved at Calvary Women's Services?
My wife and I have been meal volunteers for a few years now. Our church friends from Peace Fellowship Church started contributing this year by taking turns preparing and serving meals to residents at Calvary.
Why do you volunteer at Calvary?
I care deeply about the plight of the homeless and the people afflicted by poverty in general. Volunteering is one small way to give back to the community.
What do you like best about your work with Calvary?
I believe Calvary is one of the best-run nonprofit organizations in the DC area! The best part about my work at Calvary has to be the conversations I have with residents over meals about how their day went and anything else they care to share with me and my group members.
What has been your most memorable experience at Calvary?
I was at the grand opening celebration at the current Good Hope Road location two years ago and it was very touching to see that it took a village of board members, supporters, dedicated staff members and volunteers to make the dream of opening a brand new facility a reality.
What has surprised you most about volunteering at Calvary?
The resilience of the residents surprises me the most. They go about reaching the goal of having their own place to call home, and if this means getting trained for a job, they go at it with gusto. I remember a resident who moved out of Calvary into her own apartment – although I was sad to see her go, I was also so happy at the same time!
What would you tell someone considering getting involved with Calvary?
Do it as soon as you possibly can and don't let your busy life be an excuse to not get involved with Calvary.
If you had to choose one word to describe Calvary, what would it be?
Empowering!