January 6, 2015
Drumming Up Empowerment
For three Fridays last month, a group of women at Calvary discovered the positive effects of drumming. Sitting together in a circle, each woman selected a traditional djembe drum or shaker to play. The music began slowly at first, with two simple beats.
Bass. Tone. Low. High.
Each woman was asked to chant a positive mantra over and over as they drummed. The circle filled with overlapping sounds and words like "I will rise" and "I am energy." By the end of an hour-long session of learning and inventing more complex rhythms and songs, each woman appeared to be sitting a little taller.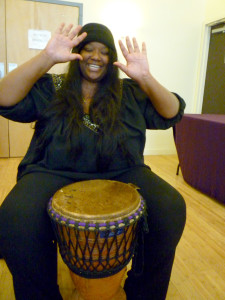 Kristen Arant, known as the "Drum Lady," collaborated with the nonprofit organization Massive Art Attack to lead this unique drumming workshop for women at Calvary. Kristen is the founder of the Young Women's Drumming Empowerment Project, which promotes self-empowerment among young women through drumming, song-writing and poetry. She performs regularly around the DC area and has taught drumming in a number of schools.
Kristen shared the following reflections on leading the drumming circle:
When I'm down about the world I think of the women drummers at Calvary. These women each had such a beautiful spirit, and drumming with them gave me a feeling of great joy and hope.

Drumming has a beautiful way of connecting all people, regardless of where they come from or what they've been through. Regardless of what stuff life has thrown at each of us, I knew each week that when we all got to drumming and singing, every little problem would melt away, leaving nothing but the present moment. The women's voices were so clear and powerful; it brought tears to my eyes and warmed my heart.

We built confidence, strength, unity and musicality together over just three sessions. My dream is that we can somehow continue what we started, keep building and bring our spirit-filled energy to the stage.
Thank you to Kristen and fellow drummer Michelle for leading these powerful drumming workshops, and thank you to the Anacostia Playhouse for hosting the group.