March 24, 2015
Volunteer Spotlight: Volunteers from Western Presbyterian Church
This month we thank the many individuals from Western Presbyterian Church in DC for their long-term service to Calvary. They have been serving meals each month at Calvary for the last decade! As Calvary has grown over the years, the volunteers from Western Presbyterian Church have been right beside us on the journey. We interviewed Mark Finks, who coordinates with volunteers from the church, and asked about why they choose to give. Thank you for bringing delicious meals and warm smiles to Calvary!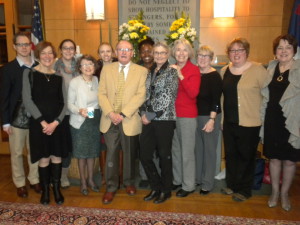 Mark (shown in the middle of the group) and a handful of
meal volunteers from Western Presbyterian Church.
How are you involved at Calvary Women's Services?
I coordinate a group of volunteers from Western Presbyterian Church who bring a Saturday evening meal each month. We have been serving meals at Calvary for about 10 years.
How did you first hear about Calvary?
Calvary's executive director, Kris, spoke with the Mission Committee at Western Presbyterian and encouraged them to get involved.
Why do you volunteer at Calvary?
Calvary's services are so vital and the programs deserve a lot of support.
What do you like best about your work with Calvary?
All of our volunteers tell me they enjoy coming to Calvary (as do I), and it makes us feel good to help.
What has been your most memorable experience at Calvary?
Years ago, one of our volunteers brought in china, glassware and tablecloths, and wore his tuxedo to provide a very unique dining experience!
What would you tell someone considering getting involved at Calvary?
You will be well-rewarded!
If you had to choose one word to describe Calvary, what would it be?
Inspiring.
Small groups are welcome to serve dinner and lunch at Calvary on the weekends. For more information, please contact Arielle Baker.