May 6, 2015
Volunteer Spotlight: Alex Winter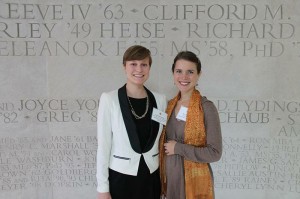 Alex (shown at left) has been serving as an overnight volunteer at Calvary for two years.
Alex Winter first heard about Calvary Women's Services through a community service program at the University of Maryland. That was about two years ago, and she has been donating her time regularly as an overnight volunteer ever since. When it comes to volunteering and giving back, Alex encourages others with the following words of wisdom: "Prioritize the service in your life! Treat it with the same professionalism, dedication, and open-mindedness as you would a job." It's that spirit that makes her a valued volunteer at Calvary. Thank you, Alex!
Where are you from?
Westminster, MD
Why do you volunteer at Calvary?
I volunteer with Calvary because I understand how the overnight role contributes to the organization's impact and mission. Additionally, Calvary does not only treat the symptoms of homelessness, but addresses the root causes on an individual level, which sets it apart from other housing programs.
What do you like best about your work with Calvary?
I like talking to the staff and clients the most – it's wonderful to come in and be able to trade stories and joke around with so many people I never would have met otherwise.
What has been your most memorable experience at Calvary?
One of the most memorable experiences was when I volunteered on the last night for one of the clients I interacted with the most. She had been with Calvary for a long time, and we talked all about her new job and how she was moving into an apartment the next day. It's very bittersweet when ladies move out.
What has surprised you most about volunteering at Calvary?
I'm always surprised by the strong sense of community at Calvary, among both the clients and the staff.
If you had to choose one word to describe Calvary, what would it be?
Supportive.