July 8, 2015
Storytelling Workshop Creates Cross-Cultural Connections
Elaine Johnson, education coordinator at Calvary Women's Services, first heard about "Storytelling with Saris" from a woman named Anna currently living at Calvary. She decorated a sari on her own and immediately picked up a postcard to share with Elaine and other residents. Anna said that when she lived in her own home, she made an effort to turn off lights when they were not being used. Fittingly, she decorated a sari with a lightbulb stamp and wrote a pledge on her sari that encouraged others to think about their energy use.
"Storytelling with Saris" is a collaborative printmaking and story project that highlights achievements of a group of women in Bangladesh who have survived intense natural disasters, learned to read and rebuilt their lives. Elaine decided this was a perfect fit with Calvary's mission of empowering women to change their lives. She contacted Monica Jahan Bose, who organized a special workshop for residents and volunteers at the Anacostia Arts Center.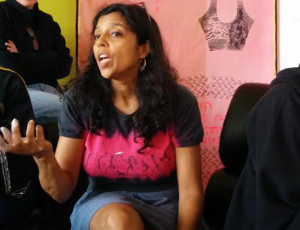 "Women were immediately interested in creating art and decorating the saris, and also getting information about the project," Elaine said. "There was definitely a connection between what women at Calvary experience and what women in Bangladesh are experiencing. They really enjoyed the process and the narratives resonated with them."
Anna said that the workshop made her think about what it would be like to live under conditions like those in Bangladesh, where women regularly have to face natural disasters like cyclones and flooding. "It made me think about all of the things that I have compared to what those women have," she said.
Calvary's Life Skills, Education and Arts Program (LEAP) provides arts and crafts classes and opportunities like this one that introduce women to art in their community. Elaine said, "I believe that the conversation that surrounds art is powerful. Residents find out about themselves and about others in unique ways when they are part of those conversations."
You can read more about the "Storytelling with Saris" project in the July issue of East of the River magazine.