December 3, 2015
Special Volunteer Intern Spotlight: Jane Lindahl
During this busy time of year at Calvary Women's Services, we are grateful to have the assistance of a special volunteer intern, Jane Lindahl. Jane assists with operations and vol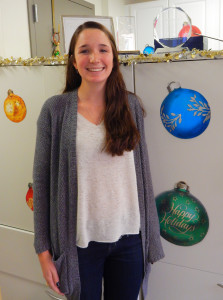 unteer-related tasks twice a week, has been teaching a LEAP class in the afternoons and has taken on several overnight volunteer shifts, too. Jane has been an enthusiastic and helpful addition to the Calvary community. We so appreciate her work with us! Learn a bit more about Jane in our December Spotlight.
Where are you from?
I grew up in Chevy Chase, MD, and now I go to school in New Hampshire.
How did you first hear about Calvary?
My mother introduced me to Calvary after she had done some work here a few years back. After researching Calvary a little more, I knew I wanted to get involved.
Why do you intern at Calvary?
I am interning at Calvary because I believe in the power of women and helping them change their lives. I am so happy to see the strength and kindness at Calvary, and to be a part of the community.
What do you like best about your work with Calvary?
I love the warmth of this community. I love walking into Calvary's doors and immediately feeling what a safe and caring place it is. I also love being able to see the great changes that people are making in their lives here.
What has been your most memorable experience at Calvary so far?
I loved helping lead a LEAP class with the residents. Last week we watched a few TED talks together and listened to spoken word poetry. I'm looking forward to next week's class!
What has surprised you most about working at Calvary?
I was happily surprised by how quickly I learned so much about Calvary and became so comfortable here.
If you had to choose one word to describe Calvary, what would it be?
I can't pick just one word, so I choose safe and happy!