December 14, 2015
What it Means to be Home for the Holidays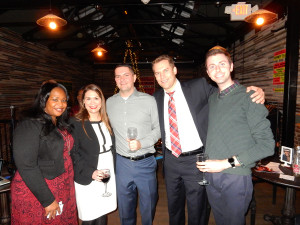 Last week, Calvary Women's Services hosted Home for the Holidays – a festive reception for donors, board members, volunteers and new friends, where we applauded all the women who have recently moved from Calvary into their own homes. Home for the Holidays was also a chance to celebrate the achievements of women who are making progress toward their goals.
Executive director Kris Thompson spoke about the severe conditions that many homeless women in the District live under during this time of year. "This year is particularly difficult for women in need in DC," she said. "We are preparing for another record-setting winter, with more than 700 families currently in need of shelter or housing. There are not enough emergency beds for women, and many women are on waitlists for therapy and other services."
Laverne – a woman who moved into a Sister Circle apartment just a few weeks ago – shared her story during the reception. "I am so grateful for everything in my life that is coming together – my new home, my job, and my family. I know that I have further to go, but I am committed to my sobriety," she said. Laverne added that she is really looking forward to spending the holidays with her granddaughter.
In the midst of many serious challenges, women at Calvary have a safe place to live and a strong community of supporters. Proceeds from Home for the Holidays will support these important resources for women who are homeless. If you would like to make Calvary Women's Services part of your holiday giving, please make a donation online.
To view photos from Home for the Holidays, visit our flickr photo album.