January 7, 2016
Volunteer Spotlight: Adam Zhao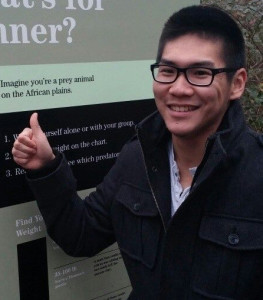 Adam Zhao is an overnight volunteer who first learned about Calvary Women's Services through the University of Maryland Terps for Change – a great program that has been sending capable volunteers to Calvary for years!
Adam said that of all the organizations that he discovered through Terps for Change, Calvary stood out to him "because of its emphasis on personal support and mental health services."
We're so glad that he made the choice to serve at Calvary on a regular basis.
Where are you from?
I live in Brookeville, MD, although I spent the first ten years of my life living outside Chicago.
Why do you volunteer at Calvary?
I volunteer at Calvary because I understand how critical this organization is to so many women, and I just want to do my part to help its continued existence.
What do you like best about your work with Calvary?
I love that Calvary offers me the opportunity to play an active role in the support that it offers through direct interaction with the women who live there.
What has been your most memorable experience at Calvary?
It was fairly brief, but I had a wonderful chat with one of the women reading in the lounge when I arrived one night. We broached the topic of faith and what stuck with me was how resolved she seemed in adhering to her beliefs despite her past difficulties and the circumstances she found herself in.
What has surprised you most about volunteering at Calvary?
What has surprised me most is how similar so many of the women seem to people I have encountered previously in my life. Difficult circumstances have landed them at Calvary, but in the right situation they could have seamlessly stepped in for people I know.
Share a fun fact about yourself!
I can sing every single one of the 890 songs on my iPod with alarming accuracy.