February 9, 2016
V-Day Performances in Anacostia will Benefit Calvary Women's Services
Every year around Valentine's Day, groups and individuals around the world observe the holiday by bringing awareness to women's issues. They do this through dramatic readings, advocacy-focused events, fundraisers, film screenings, social sharing and more. "V-Day" can be more than just an occasion to exchange chocolates and love notes. It is a movement to help support efforts against women's violence and celebrate women's empowerment.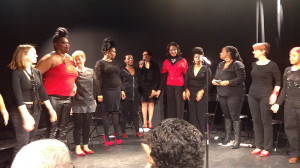 There will be a V-Day event held right here in our neighborhood on Saturday, February 13. During "East of the River V-Day," volunteer performers will read selections from Eve Ensler and Mollie Doyle's A Memory, A Monologue, A Rant, and A Prayer. The collection of essays powerfully highlights issues surrounding women's sexuality, identity, fraught relationships and role in society.
Nearly 75 percent of women at Calvary Women's Services have experienced some form of domestic violence. We are grateful to the event organizers for donating proceeds from "East of the River V-Day" to Calvary and empowering women who are healing from significant pain.
"East of the River V-Day" performances will take place at the Anacostia Playhouse on Saturday, February 13 at 4 p.m. and 8 p.m. Make sure you arrive early to either performance for photos on the pink carpet and V-Day treats. It's not too late to purchase tickets and stand up for women this Valentine's Day.