September 29, 2016
Calvary to Host Fall Career Fair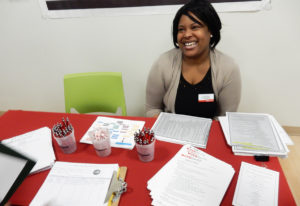 Calvary Women's Services will host a Fall Career Fair on Thursday, October 6th to introduce women at Calvary to a variety of local job opportunities and employers. Step Up DC, Calvary's job placement program, connects women in Calvary's transitional and permanent housing programs with employers in the community.
The Fall Career Fair will introduce women at Calvary to several businesses in the Washington, DC area that are currently hiring. There is no cost for participants or employers to attend.
Hiring representatives from Hilton Hotels, Philz Coffee, CVS Pharmacy, Giant Foods, CMS Training Academy, Canada Dry, Capital Concierge, Harris Teeter, Robert Half, DC Office of Human Rights, DC Connect, DOES and other businesses will be present.
Complete event details are listed below.
WHO: The Fall Career Fair is open to women currently or formerly in Calvary Transitional Housing Program, Pathways and Sister Circle, as well as current and former participants of Calvary's STRIDE (Search Together to Resume Dignified Employment) program.
Local businesses interested in reserving a display table at the Fall Career Fair are invited to contact Robinson Cook at (202) 678-2341 ext. 234 or rcook@calvaryservices.org.
WHAT: Fall 2016 Step Up DC Career Fair
WHEN: Thursday, October 6th, 11a.m. – 1p.m.
WHERE: Calvary Women's Services
1217 Good Hope Road, SE
Washington, DC 20020
WHY: Step Up DC relies on local employers and community partners that are willing to share resources and opportunities with program participants. Women who participate in Step Up DC and successfully secure employment gain financial independence and move into their own homes sooner than women who do not secure employment.
Contact: Robinson Cook
Email: rcook@calvaryservices.org
Phone: (202) 678-2341 ext. 234
---
The Fall Career Fair is open to female job seekers in Washington, DC. Advance registration is required. To register click here.