October 11, 2016
Volunteer Spotlight: Frances Smok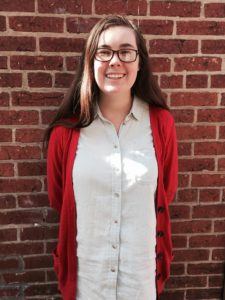 Frances Smok is joining Calvary this fall as our community engagement intern. She works closely with the operations and development departments to support the volunteer team, in-kind donations program, and fundraising events. Frances will be interning with us through the end of the year, so she will also support Calvary during the busy holiday season. You may be hearing directly from Frances about volunteer opportunities and events this fall, so be sure to give her a warm welcome.
Having an intern each fall who supports year-end activities at Calvary has proven to be incredibly beneficial to Calvary, and we're excited to welcome Frances to the team in this role.
Where are you from?
Cincinnati, Ohio
Share a fun fact about yourself!
I am a student at American University, studying Public Health and Education.
How are you involved at Calvary Women's Services?
I am the Community Engagement Intern.
How did you first hear about Calvary?
I found out about Calvary when I was searching for an Internship, and when I visited the website I knew it was a place that I wanted to get involved with!
Why do you volunteer at Calvary?
I volunteer at Calvary because since I just moved here, I wanted to get involved in the DC community, instead of staying in the bubble of my school.
What do you like best about your work with Calvary?
The thing I like best about my work at Calvary so far is the sense of community here- I've only been here for a few weeks, but I already feel like I am welcomed by the staff and the women Calvary serves.
What has been your most memorable experience at Calvary?
My most memorable experience at Calvary so far has been tabling for Calvary at a fall festival, and getting to tell people about the great work that Calvary does. It made me really feel like a part of the Calvary team.
What has surprised you most about volunteering at Calvary?
The thing that has surprised me most about volunteering at Calvary is how many people volunteer here! It takes a lot of work and coordination to keep Calvary running, and the amount of volunteers and the work that they do plays a key role in the support that Calvary is able to provide the women that stay here.
What would you tell someone considering getting involved at Calvary?
If someone I knew were considering getting involved at Calvary, I would tell them that they absolutely should! Everyone here is so welcoming, and the work that Calvary does is incredible- empowering women to change their lives is something that anyone can do!
If you had to choose one word to describe Calvary, what would it be?
Dedicated.