November 3, 2016
In Her Words: Women Share "Songs of Myself" Original Poetry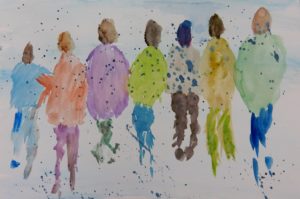 Brown Skin
Brown like bubbling brown sugar
Soft as silk
I love the skin I'm in
Brown skin, talk about your brown skin
I don't know where yours ends or where mine begins
Like a deep pot of chocolate, smooth
Velvety, shiny, brown
Nose
I love to rub my nose
Against my granddaughter nose so that we bond together
Laughing and being happy, silly, just being us
My nose is big, brown
Hers is small, brown
When I rub my nose up against my granddaughter's small brown pea nose
Rubbing in comparison to my big brown nose
Feeling like a cranberry muffin
Fall
Barren trees no green to be seen,
Indoors with family, you know what I mean,
Leaves changing into colors of three,
I'm making them in bundles, how tiresome it could be,
Cool breeze blowing nipping at me,
Coats and hats and scarves I can see,
Thanksgiving season is here, how nice,
Pumpkins and spice and everything nice.
Poems were written by women who live at Calvary during "Songs of Myself" – an 8-week creative writing class offered as part of our Lifeskills, Education and Arts (LEAP) program. Artwork included in this post was created by women at Calvary at an earlier date.