December 8, 2016
Volunteer Spotlight: Emily Kathryn Winship
Emily Kathryn Winship has been a loyal Calvary volunteer for nearly five years. Since May 2015, she has lead an art-focused LEAP class every Friday. She is consistent and very involved in many aspects of Calvary's programs, and is also one of our "Rockstar" volunteers.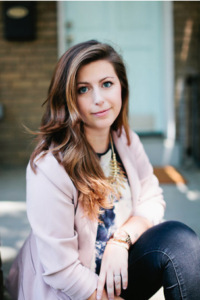 We appreciate that in addition to consistently teaching a class, Emily also attends many of our events, brings her friends and encourages them to get involved at Calvary. She is always up for volunteering in many ways – from teaching women at Calvary about art history to running a craft fair promoting women's work, to running registration at one of our fundraising events. She is extremely flexible and has adopted Calvary as her own.
Emily is a true asset to the Calvary community and we're so happy that she chooses to lend her talents in design to provide an artistic outlet for women at Calvary every Friday afternoon. 
Where are you from?
Wilson, NC
Share a fun fact about yourself!
I play guitar and am learning Ukulele.
How are you involved at Calvary Women's Services?
I lead a LEAP class where we make art and study a little art history.
How did you first hear about Calvary?
My first job when I moved to town in 2011 was with a small interior design firm that had offered its services to the new Calvary building. I met a few of the staff members as we got the new location ready for the ladies. Hearing how happy they were working with the wonderful women at Calvary really moved me to ask if there were any openings for volunteers. I started helping with the annual Hope Awards Dinner and eventually began leading a class in 2015.
Why do you volunteer at Calvary?
I love the work this organization does and wish I could donate financially. Volunteering is my way of showing support by offering my time instead.
What do you like best about your work with Calvary?
I love the strong friendships I've built and it's so amazing to see the women support and encourage each other to be creative and to appreciate the importance of taking a little time out of their week to "make".
What has been your most memorable experience at Calvary?
I remember most the women who I've really connected with and been inspired by. So many of the ladies have so much to teach and share, and are happily becoming surrogate mothers/ sisters. I've learned lessons from the lives that the women have lead and from their experiences, and have felt my world view expand as I hear about their fierce hope for the future.
What has surprised you most about volunteering at Calvary?
The numerous times I've walked into class and been uplifted by the women of Calvary. When I totally expected to need to be the upbeat one, the women have often proven to be so positive that I've been uplifted by their positivity instead of the other way around.
What would you tell someone considering getting involved at Calvary?
I was a little apprehensive about making the regular volunteering commitment work with my schedule and concerned that I might not be the best leader of a LEAP class. I have learned that the LEAP class I lead is often the highlight of my week, and the preparation has become an enjoyable distraction from my work week. I've also discovered that leadership isn't always as important as friendship and support for one another in the Calvary community. What I have to offer to the ladies may not be what I thought was needed- strong leadership- but my willingness to listen and create together is valuable to them all the same.
If you had to choose one word to describe Calvary, what would it be?
Community.