February 21, 2017
Dolores Huerta to Receive Hope Award at Calvary's 16th Annual Hope Awards Dinner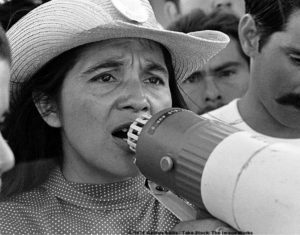 The Hope Awards Dinner, now in its sixteenth year, is an inspiring event when Calvary Women's Services' community comes together to celebrate the success of the women in our programs. As part of this celebration, Calvary presents the Hope Award to individuals who offer hope, inspiration and empowerment to women in need. Past Hope Awards have honored women like NPR's Diane Rehm, entrepreneur and philanthropist Sheila Johnson, television journalist Katie Couric, and Congresswoman Eleanor Holmes Norton.
This year, we're thrilled to announce that Dolores Huerta will be receiving the Hope Award. Ms. Huerta is an activist and labor leader who co-founded the United Farm Workers. She has been recognized with numerous awards, including the Presidential Medal of Freedom, for her lifetime of advocacy for women, farmworkers, and immigrants. Her life and work is chronicled in the documentary, "Dolores," which premiered at the Sundance Film Festival this year. You can learn more about Ms. Huerta here.
Please join us on May 10th as we celebrate the incredible contributions Ms. Huerta has made!
The Details:
16th Annual Hope Awards Dinner
Date: Wednesday, May 10, 2017
Time: 6:00 to 7:00: Cocktail reception and silent auction
7:00 to 9:00: Dinner, live auction and awards program
Location: The Ronald Reagan Building & International Trade Center
1300 Pennsylvania Avenue, NW, Washington, DC
Tickets: $250 per person, available online