February 1, 2017
Volunteer Spotlight: Susan Henry
Meet Susan Henry. Susan has been an overnight volunteer with Calvary for two years, and covers the same Friday shift each month. Susan goes above and beyond the typical responsibilities of an overnight volunteer – if there isn't a planned hot breakfast on the mornings after she volunteers overnight, she'll bring a special breakfast for the women at Calvary.
In addition to her consistent overnight volunteering, Susan also gets involved with Calvary in other ways. She taught a class as part of our Life-skills Education and Arts Program (LEAP) and often donates in-kind goods that help keep Calvary's program running. She even encouraged her friends to send Calvary in-kind donations for her birthday, in lieu of giving her birthday gifts!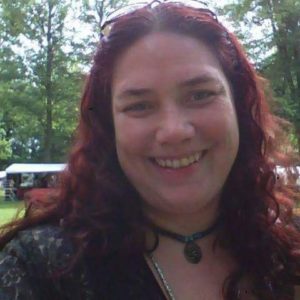 Susan takes her responsibility as an overnight volunteer very seriously. She jumps in for extra shifts when she can, and we love that she gets involved with Calvary beyond her monthly overnight shifts. Consistent, generous volunteers like Susan make Calvary's program run smoothly and offer a familiar face to women who live at Calvary. Susan always wants to help in any way she can, and we are so grateful for her giving spirit. Learn more about Susan below.
Where are you from?
Greater Cincinnati/Northern Kentucky
Share a fun fact about yourself!
I am a Geek at heart with the love of multiple sci-fi fandoms.
How are you involved at Calvary Women's Services?
Overnight Volunteer/ LEAP Facilitator
How did you first hear about Calvary?
Volunteer Match
Why do you volunteer at Calvary?
I wanted to give back to the community.  Now I just love going to see my ladies!
What do you like best about your work with Calvary?
Seeing such positive attitudes and perseverance in these amazing women
What has been your most memorable experience at Calvary?
Facilitating a class on customer service and being taught about the reverse, how customers are treated by members in the service industry.  Then discussing how to use that knowledge to give better customer service.  Very insightful and inspiring.  There are some very creative and intelligent women that call Calvary home.
What has surprised you most about volunteering at Calvary?
How easy it is to be inspired by the women we are there to support.
What would you tell someone considering getting involved at Calvary?
DO IT!  You can't go wrong being a volunteer here.  The staff and women are so beautiful to work with.  I love my overnights and I think others would as well.