March 31, 2017
Bank of America and Calvary Women's Services Partner to Empower Women in Washington, D.C. During Women's History Month
Support comes as part of Bank of America's Neighborhood Builders® program, which enables high performing nonprofits to address pressing community challenges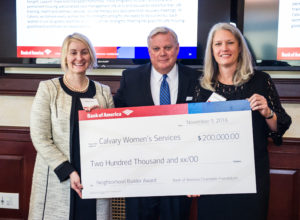 Washington, D.C. – Calvary Women's Services announced it is a recipient of the Neighborhood Builders award from Bank of America. Calvary is being recognized for its expanded housing and improved employment programs for homeless women across the Washington, D.C. area. The award combines leadership development resources with $200,000 of flexible funding intended to help increase the organization's capacity and impact.
Calvary Women's Services aims to provide a safe, caring place for women in need, and embolden them to live successful lives by offering transitional and permanent housing, case management, life skills and education opportunities, health and wellness services and daily addiction recovery treatment.
The Neighborhood Builders (#NeighborhoodBuilders) grant will enable Calvary to move forward with development of a new permanent affordable housing program for women. This program will support at least 20 women who are facing challenges including substance addiction; mental illness; and histories of violence and trauma.
"We are grateful for Bank of America's support and their extraordinary commitment to women in the community," said Kris Thompson, Calvary's executive director. "With this investment from Bank of America, even more women at Calvary will end their homelessness."
According to the December 2016 U.S. Conference of Mayors' Report on "Hunger and Homelessness" Washington, D.C. had one of the fastest increases in homelessness between 2009 and 2016, with a 34.1 percent gain. Calvary provides integrated care and personal, one-on-one support to each woman in its program. Each year, 70 percent of women who complete Calvary's programs successfully move into their own homes.
"At Bank of America, we are committed to supporting women — both within our company and in our community," said Jeff Wood, Greater Washington market president, Bank of America. "Working with Calvary Women's Services allows us to provide support for an organization committed to ensuring women across the D.C metro area are leading healthy lives and are on the right track toward improved financial well-being."
Since 2004, through Neighborhood Builders, Bank of America has helped nonprofits create greater impact in their communities and better prepare for the future by providing the tools and resources they need to develop stronger strategic plans, chart a succession plan, navigate through tough economic times, and enhance their funding opportunities. Since the program's inception, Bank of America has invested more than $180 million in 900 nonprofit organizations across the country, providing leadership resources to nearly 2,000 nonprofit leaders, and the program has been recognized as the nation's largest philanthropic investment in nonprofit leadership development.
Neighborhood Builders is a signature demonstration of the bank's work to address issues fundamental to economic mobility in order to build thriving communities and illustrates how strong cross-sector partnerships and local community leaders can play a meaningful role in positioning communities for success.
About Bank of America Environmental, Social and Governance
At Bank of America, our focus on Environmental, Social and Governance (ESG) factors is critical to fulfilling our purpose of helping make people's financial lives better. Our commitment to growing our business responsibly is embedded in every aspect of our company. It is demonstrated in the inclusive and supportive workplace we create for our employees, the responsible products and services we offer our customers, and the impact we help create around the world in helping local economies thrive. An important part of this work is forming strong partnerships across sectors – including community and environmental advocate groups, as well as non-profits – in order to bring together our collective networks and expertise to achieve greater impact.  Learn more at www.bankofamerica.com/about and connect with us on Twitter at @BofA_News.
About Calvary Women's Services
Calvary Women's Services offers housing, health, employment and education programs that empower homeless women in Washington, DC to change their lives. Founded in 1983, our programs carry out our mission to offer "a safe, caring place for tonight; support, hope and change for tomorrow." These programs include transitional and permanent housing, personalized case management, life skills and education opportunities, job training, health and wellness services, on-site therapy, and daily addiction recovery meetings. At Calvary, we believe that every woman has the strengths and gifts she needs to be successful. Each woman in our programs identifies and builds on her strengths, meeting her goals for safe housing, good health, and financial independence. We know that our programs work: every five days, a woman moves from Calvary into her own home. Learn more at www.calvaryservices.org.
###
Reporters May Contact:
Heather Laing                                                            Lawrence Grayson
Calvary Women's Services                                       Bank of America
hlaing@calvaryservices.org                                     lawrence.grayson@bankofamerica.com