April 26, 2017
Step Up DC Participants Tour Deloitte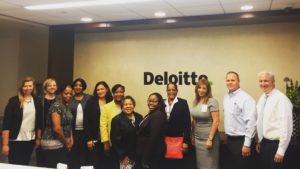 On Tuesday, April 25th, clients from our Step Up DC program joined Calvary friends from Deloitte for a tour of their Arlington office.
Women met with Deloitte operations and admin staff and had a tour of the building to learn about some of the entry level positions available at companies like Deloitte. The staff members also conducted mock interviews for the Step Up DC participants.
One client explained that when you're getting back on your feet, going into a large corporate office can be intimidating. However, she felt so welcomed and encouraged by everyone at Deloitte that it really broke the ice for her. She explained that on the inside she knows she could work at a place like Deloitte – but it can be hard (after going through hard times) to share that feeling in the way she expresses herself on the outside. The Deloitte volunteers gave her some good tips and really coached her in how to make sure her outward confidence also proves that she can picture herself at a company like Deloitte.
If you're interested in getting your workplace involved with the Step Up DC program, please get in touch with Arielle at abaker@calvaryservices.org.