June 5, 2017
Summer Career Fair Presented New Opportunities to Women at Calvary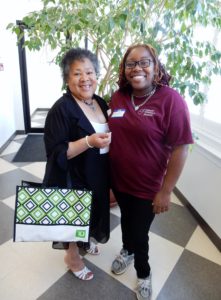 Calvary's job placement program, Step Up DC, hosted a Summer Career Fair on June 1st – and it was an excellent day!
Nine employment and educational partners attended the event, presenting current job and educational opportunities to the attending job seekers. Among the participating agencies were CAVA, Hilton, Wal-Mart, Innovation Life Solutions, First Transit, Office of Human Rights, UDC-CC, Byte Back, and Academy of Hope Adult Public Charter School (AOH-APCS).
The women at Calvary began the Fair by participating in training sessions on employment rights and interviewing from the Office of Human Rights and Enhanced Resumes. All of them were engaged in the sessions and enjoyed practicing self-presentation.
Various DC community organizations came together to make the event a great success. Women from Jubilee Jobs, AOH-APCS, Southeast Ministry, Byte Back and Samaritan Ministries were invited to attend this open-door event to increase the career fair's impact on the wider Southeast community.
All attendants had a great time networking, learning about current opportunities, and keeping up the confidence and motivation necessary for a successful job search. We're especially excited that the women at Calvary connected with diverse employment options including management positions and jobs that have less women's representation, such as maintenance and transportation.
We wish all job seekers lots of success and we thank our community partners for their participation!