July 24, 2017
Angelica's Pursuit of Happiness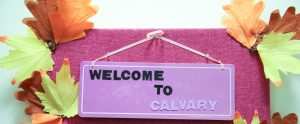 Angelica has been there for others her entire life. Her humble and meek personality made her the peacemaker during difficult family situations, but at the same time, she was used to people taking advantage of her. She would always calm down everybody but herself, which took a deep emotional toll on her. Things took a turn for the worst when she was assaulted last year.
Angelica was broken. She needed to move – out of her old house and out of her old life – but having nowhere to go, she started self-medicating. She didn't think the pain would ever go away. Angelica came to Calvary soon after completing a drug treatment program. "God brought me here and now I see why. It was the perfect time," she said.
Still processing her trauma, Angelica was ready to start over. But this time around, she was determined to focus on herself. She decided to not let the actions of others hurt her anymore, and started standing up for herself more. She soon began to flourish.
"Calvary is a healing place. The women here, we are older. We come here to better ourselves. At Calvary, you can reach your goals, because people will support you and inspire you. Elsewhere, people get jealous and will bring you down."
She realized that even though there will be times when she's not happy, she can always pursue happiness. "There's no such thing as I can't do it. You can do it. But you have to want it. And I want more."
Today, Angelica works two jobs in order to build up her credit. "At first, it was hard for my body to get used to the night shifts, but I won't let anything discourage me. I don't mind the struggle because I'm just gaining," she says.
There's no doubt about that, as Angelica is about to get her own apartment soon. "I'm overwhelmed," Angelica says. But this time, her voice is trembling with joy.
"My life is a blessing. I don't even think about the pain anymore. I'm in control of how I feel – I came a long way."