July 10, 2017
Step Up DC Joins Skyland: First to Offer Job Placement Services Specifically to Women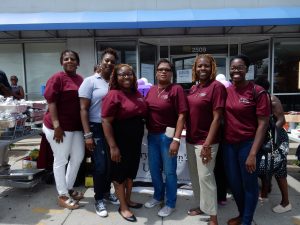 Calvary Women's Services recently expanded its job placement program, Step Up DC, to Skyland Workforce Center. The nonprofit collaborative and pilot site for The Work Place DC offers employment services to adults working toward self-sufficiency and is located just blocks away from Calvary's primary location. To celebrate the expansion of Step Up DC and to showcase the new service to the Skyland community, Calvary hosted a lively block party with food, music and giveaways on Friday, July 7th.
Step Up DC has been providing job placement services to women at Calvary since 2014, enhancing Calvary's comprehensive housing, health and education programs for women who are working hard to transform their lives. Denise, who came to Calvary after she lost both her job and home, and who later secured employment with Step Up DC's support, explained that the program "woke up the skills that were dormant" in her. With the new income, she was able to move into her own apartment.
"Step Up DC is committed to providing high-quality support to women who are working to gain financial independence. The program is unique in that it continuously encourages peer support but at the same time, offers highly personalized employment consulting," said Kenisha Boone, Calvary's Workforce Development Specialist who runs Step Up DC on both sites.
At Skyland, Step Up DC is now the only job placement program geared specifically toward women, and will provide services Monday and Wednesday mornings for up to 10 job seekers at a time. Participation in Step Up DC @ Skyland is available to women in the community through a referral from other service agencies, and requires the ability to commit to the semi-weekly sessions. This is the first time Step Up DC offers job placement services outside of Calvary's housing programs, increasing Calvary's impact on the lives of people in the wider Southeast community.
"Step Up DC participants obtain jobs with an average hourly wage of $13, and 90% of participants who secure employment transition into stable housing. Simply put, our model works," said Kris Thompson, Calvary's Executive Director.
Other partner organizations providing employment services at Skyland include Samaritan Ministry/STRIVE, Thrive DC, Byte Back, and Southeast Ministry. As Skyland's Center Director Andrew Rogers pointed out, "This collaborative model works to the benefit of all participating job seekers as each partner organization leverages its specific expertise and resources for greater collective impact."
Do you know someone who's looking for work? Please contact Kenisha Boone at kboone@calvaryservices.org or 202-678-2341 x234 and get started right away!