August 2, 2017
Volunteer Spotlight: Michelle Engmann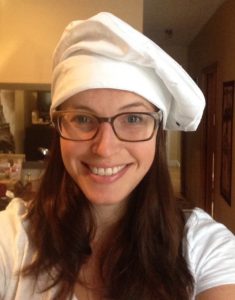 Michelle Engmann wears many hats – a local on both coasts, she is a non-profit professional turned culinary expert who, in her free time, facilitates classes through our Life Skills, Education and Arts program (LEAP) and organizes karaoke nights for women at Calvary.
When she showed up for her first Geography & Food Culture class, we were quite impressed by how precisely she had it planned out. She let women choose the regions they were most interested in and then challenged them with lots of materials. Women loved it.
When Michelle isn't volunteering, she shows her support by coming to fundraising events (she is the biggest cheerleader in the Hope Awards audience), raising money herself (for Giving Tuesday), and connecting Calvary with community partners (coming with CAVA to Step Up DC's career fair). Michelle truly personifies the community that we work to build.
Learn more about Michelle here:
Where are you from?
I'm originally from San Francisco, but I have lived in D.C. since 2005.
Share a fun fact about yourself!
I used to travel the world working for international development non-profits, but my true passion is food, so a few years ago I quit my job to go to culinary school and now work full time at DC's own Cava Grill.
How are you involved at Calvary Women's Services?
I am a LEAP facilitator and moonlight as a karaoke party organizer.
How did you first hear about Calvary?
I learned about Calvary online at VolunteerMatch.com.
Why do you volunteer at Calvary?
I started volunteering because I was looking for a way to continue to support social causes after leaving my work in the non-profit sector behind; I continue to volunteer because of the relationships I've built with the awesome Calvary staff and how much fun I have with the ladies!
What do you like best about your work with Calvary?
It doesn't feel like work! I truly have so much fun sharing my passions with the residents, especially through my Geography & Food Culture LEAP classes, where we learn about different parts of the USA and the world, and how the geography, history and cultural legacy has shaped the local cuisine.
What has been your most memorable experience at Calvary?
My favorite memories have been bringing in examples of foods from different cultures, having the residents always game to try a bite even if they are unsure, and be surprised at how much they enjoy it!
What has surprised you most about volunteering at Calvary?
This shouldn't have been a surprise, I suppose, but I am continually struck by the level of empathy, patience, and unconditional acceptance shared among the residents, all of whom come from their own challenging circumstances but find the strength to support and empower one another in their respective journeys.
What would you tell someone considering getting involved at Calvary?
It's a truly inspirational place and spending time here has added just as much value to my own life as I (hopefully) have been able to give.
If you had to choose one word to describe Calvary, what would it be?
Empowering.