December 7, 2017
Volunteer Spotlight: DC NOW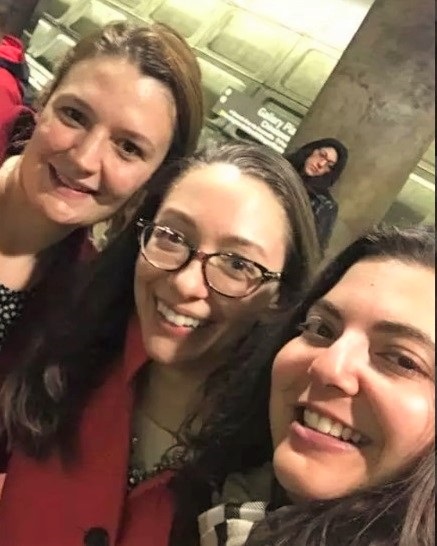 The DC chapter of the National Organization of Women (DC NOW) (their Communications Director, Vice President and President are pictured on the left) has been volunteering with Calvary for just over a year and we couldn't be more thankful for the partnership! The volunteer group organizes birthday parties three times a year for the women at Calvary by planning a party (including games and gifts) and decorating Calvary's program room for a festive celebration. DC NOW has also jumped in to support Calvary in other capacities: the most recent being their involvement with fundraising for Giving Tuesday. By reaching out to their friends, families and networks, the team helped Calvary exceed our Giving Tuesday goal of raising $10,600. We are so thankful for a partner that invests in our programs both financially and with their time and are so excited to spotlight DC NOW this month:
Where are you from?
DC NOW is the DC Chapter of the National Organization for Women. We work to empower women and girls in DC through activism, policy work, and volunteering.
Share a fun fact about yourself!
We have almost 1,000 members and we work all over DC. We also have a book club!
How are you involved at Calvary Women's Services?
We host three birthday parties a year and participate in other opportunities when available.
Why do you volunteer at Calvary?
Calvary's mission to empower women in DC to change their lives and to live independently is something we feel strongly about. By volunteering at Calvary, we feel we are supporting some of the many great women in DC.
What do you like best about your work with Calvary?
The residents are always a lot of fun. We love playing HeadsUp at the birthday parties and it's always an absolute blast!
What has been your most memorable experience at Calvary?
At one point we were playing Heads Up and fifteen people were all yelling different things and absolutely everyone was laughing. It was such a joyful moment.
What has surprised you most about volunteering at Calvary?
How loud some of the parties will get!
What would you tell someone considering getting involved at Calvary?
Definitely to get involved! There are so many different volunteer opportunities at Calvary and the staff and the residents are all so nice and great to work with.
If you had to choose one word to describe Calvary, what would it be?
Spirited.