February 16, 2018
Calvary Women's Services Receives $25,000 from the Walmart Foundation to Support Step Up DC Job Placement Program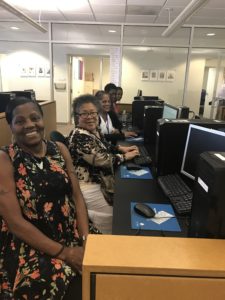 Calvary Women's Services today announced that it has received a $25,000 grant from the Walmart Foundation to further its mission of empowering women to end their homelessness and transform their lives. The grant – which was given to the organization through the Walmart Foundation's State Giving Program – will support Step Up DC, a job placement program serving women who are homeless or living in poverty in Washington, DC.
"Securing stable employment is a critical step for homeless women who are striving to move into housing," said Calvary's executive director, Kris Thompson. "We are grateful for the Walmart Foundation's commitment to women in this community. With the support of the Walmart Foundation, more women at Calvary will successfully end their homelessness after securing jobs through Step Up DC."
The Walmart Foundation's grant will help Calvary Women's Services connect women to jobs so they can earn a stable source of income, pursue their career goals and move out of homelessness. The program's activities include personalized support from a full-time workforce development specialist, resume building, mock interviewing and trips to local job fairs.
"It is vital to empower women in Washington, DC, and in communities around the world, to transform their lives by accessing the economic opportunities they deserve," said Jennifer Hoehn, Director of Public Affairs for Walmart. "The Walmart Foundation is proud to support Calvary Women's Services by helping to increase available resources, education and opportunities so women in DC can live better."
The contribution to Calvary Women's Services was made possible through the Walmart Foundation's Washington, DC State Giving Program. The Walmart Foundation's State Giving Program plays an essential role in the Foundation's mission to create opportunities so people can live better.
For additional information about Calvary Women's Services, please contact Heather Laing at (202) 678-2341 ext. 220 or hlaing@calvaryservices.org.