July 11, 2018
Ready to Make a Change From Day One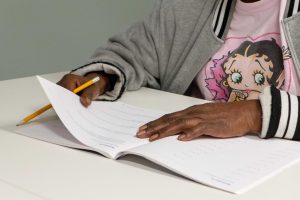 When Pamela first came to Calvary Women's Services, she was ready to change her life from day one. "You're here to get yourself together," she told herself. "I had a plan when I walked in the door."
In the months prior to coming to Calvary, she had been in an abusive relationship. She thought she'd found relief when a family member, realizing how much danger she was in, invited her to come stay with him. But that family member became equally abusive. Pamela knew she needed to escape, but she didn't know how. Fortunately, she was referred to Calvary.
Pamela had been considering shelters, but the prospect of moving into another one did not give her much hope. She had been in shelters before, and although they had provided a much needed safety net during times of intense crisis, they proved to be only a temporary solution. Fortunately, she was referred to Calvary's Housing Program. Thanks to our personalized and multi-faceted services, her time with Calvary's housing program would end up being a very different experience from her previous stays at shelters.
At Calvary, Pamela took advantage of a variety of services. She opened a savings account and began making weekly deposits in conjunction with LEAP activities, Calvary's life skills and education program. With encouragement from her case manager, she attended therapy sessions with Calvary's licensed therapist. She also attended the relapse prevention group to help her stay on top of her sobriety. Thanks to Step Up DC, Calvary's job placement program, she found another better-paying job with a catering company.
Even with all these big steps forward, sometimes it was the little things that made the most difference. After complaining of chronic pain in her feet to a staff nurse, she received a new pair of medical walking shoes. "They gave me support shoes. I don't know anything more awesome than that!"
These days, Pamela is preparing for the next steps. She has been saving money all year and preparing to move into a place of her own. She often thinks about other women in the same position she found herself in last year. "I see a lot of women out there still struggling, especially more and more young ones." She hopes that she can encourage them by being living proof that change is possible. "I would recommend Calvary to any woman who is ready to make a change."