August 15, 2018
Cocktails for Calvary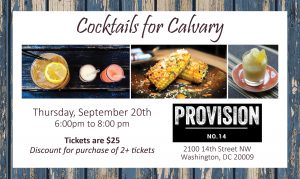 Looking for a great opportunity to learn more about the mission of Calvary Women's Services in a fun, relaxed environment? Join us on Thursday, September 20th for an evening of craft cocktails and delicious hors-d'oeuvres at stylish Provision No. 14, located on 14th Street NW (a Mecca for DC foodies). We'll come together to celebrate empowering women and women overcoming homelessness.
Don't hesitate to invite friends, family, coworkers and networks to learn more about Calvary's programs and the women we serve.
Tickets are $25 each, and a discount is available with the purchase of two or more tickets.
For tickets and more information, visit the event page: Cocktails for Calvary