August 2, 2018
Volunteer Spotlight: Delia Antemie
Delia Antemie began as as a facilitator for our education classes, and eventually transitioned to an overnight volunteer role when her schedule changed. When asked why she volunteers, she responded "I volunteer because I want to be that person for someone else – to encourage them to press on, to focus on the blessings in life despite its difficulties, and to believe in people's capacity for kindness and compassion." Read on to learn more…
Where are you from?  
From the West Coast! Born in L.A., but spent my formative years in Seattle. My family is all there now.
Share a fun fact about yourself!
I'm Romanian! My parents immigrated here in 1985, to escape the religious persecution under the communist regime in Romania at the time. Being Romanian means I have a HUGE family. Per my last count, I have 74 first cousins!
How are you involved at Calvary Women's Services?
I started off as a LEAP facilitator – leading power walks in the mornings and fitness classes in the afternoon when the weather got crummy. Given my stringent work schedule, I had to switch to overnight volunteering, which is what I do now.
How did you first hear about Calvary?
From my boss actually! When I first moved to D.C. about 3.5 years ago, I was looking to get rid of a mattress the previous occupant of my room had left behind. I asked him for the names of organizations that might take it and Calvary was on his list. I did some research and found out that NO place takes old mattresses (and rightly so), but I was hooked by the mission statement and work that Calvary seemed to be doing, based off the website.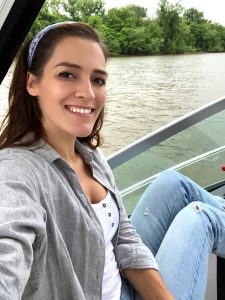 Why do you volunteer at Calvary?
Honestly, I do it because of my faith.  And because I know that I have been exceedingly blessed and fortunate in life, not just from a material or situational standpoint, but through the relationships I have, the people that encourage me, and the experiences that have shaped me as a person. I volunteer at Calvary because I want to be that person for someone else – to encourage them to press on, to focus on the blessings in life despite its difficulties, and to believe in people's capacity for kindness and compassion. Volunteering at Calvary also challenges me to push past the limitations of my life and connect with people that I may never have an opportunity to meet otherwise. 
What do you like best about your work with Calvary?
Oh hands down, the women! They can be so funny and lighthearted – and I know (whether they share or not) that they've all been or are going through tough times. It's not easy to find the courage to be positive or find the fun in life, but they do it. I love seeing them interact, and jumping into their banter myself when appropriate.
What has surprised you most about volunteering at Calvary?
The women's attitude of gratitude. My church group and I did a breakfast earlier this year, and so many of the women made a point of coming up to us individually to thank us for being there. We definitely did not expect it, so it was overwhelming in the best possible way.
What would you tell someone considering getting involved at Calvary?
I'd say jump in and fully embrace the opportunity and experience! I remember when I first considered volunteering I was reluctant for two reasons. One, I didn't feel I had anything of value to offer, and two, I thought relating to the women would be difficult.  I was wrong.  My presence, or the sacrifice of my time, alone was valuable.  And the women, well, they don't hold back if you don't. So just take a chance, make some small talk, and I think you'll be surprised where it takes you and how much common ground you'll find.
If you had to choose one word to describe Calvary, what would it be?
Revitalizing.