September 6, 2018
Volunteer Spotlight: Joelle Rudney Connects With Women Through Teaching
Joelle Rudney has been a cornerstone of LEAP (Life skills, Education, and Arts Program) since she began volunteering at Calvary Women's Services a few years ago. Although she has taught many topics, the most popular have been Spanish, Art Appreciation, and Writing Skills.
Her Writing Skills class often ends with participants writing a formal letter to the Mayor advocating for the need for more affordable housing options in DC; one particularly impassioned group even traveled to the Mayor's office to hand deliver them.
We had the chance to sit down with Joelle, and a frequent participant in her classes, Nakia. The two were in the process of editing Nakia's letter to Mayor Bowser about the housing crisis.
How did you get started at Calvary Women's Services?
J: I found Calvary through Volunteer Match [an online resource for local volunteer opportunities]. I wanted the chance to teach adults. I'm a retired high school teacher so I was used to working with teens.
Did you have any challenges getting acclimated to Calvary?
J: The first class I taught was a GED prep class, but we quickly learned that the GED is a very difficult and complicated exam. We decided to switch the GED class to a writing class so that more women could participate.
Nakia, a resident at Calvary, has participated in many of Joelle's classes. She and Joelle have formed a close bond over the past year.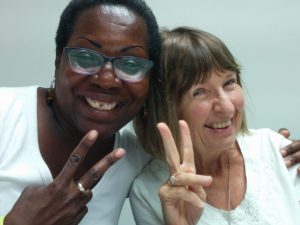 N: I remember when I first met her I thought she was so interesting. We were looking at different paintings for an art class, and one of them had a drawing of a breadfruit in them. And she recognized the breadfruit! I'm from the Caribbean, and I don't expect anyone around here to know breadfruit.
J: I thought Nakia was so bright and positive. She always brings great energy to the classes.
Which of Joelle's classes has been your favorite?
N: I love the Spanish class because it brought back so many memories. My elementary school growing up was a bilingual school. It reminded me of all the Spanish words and phrases I already had in my head.
J: I asked the women what kinds of classes they might be interested in next, and lot of them expressed interest in a Spanish class. I was surprised by the suggestion, but also delighted. The women at Calvary have different backgrounds & skills, and I try to work together with them to find what topics and teaching methods work best.
What do you enjoy most about teaching at Calvary?
J: I think the greatest part is the human aspect. I'm an academic at heart, but I love the contact with residents. I'm trying to be compassionate and helpful. I've been told by different women that I'm making a good positive impact, and I find that very satisfying.
N: The teachers and instructors here push us to do better. You learn as you go along in class, it gives you the chance to improve. There's always room for self-improvement, just open your eyes and you can see it.