October 1, 2018
2nd Annual Roseann Finigan Meisburg Health Fair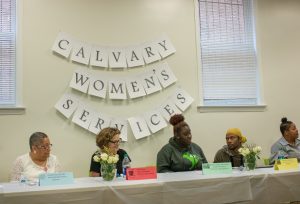 Calvary Women's Services hosted the second annual Roseann Finigan Meisburg Health Fair for women on September 20th. Through a series of presentations, women learned how they can manage the physical & mental health challenges that they may be facing.  They also learned how they can be proactive about improving their health. The fair was established in memory of Roseann Finigan Meisburg.
Topics discussed at this year's fair included diabetes, heart health, breast health, mental health, medication management, dental hygiene, and more.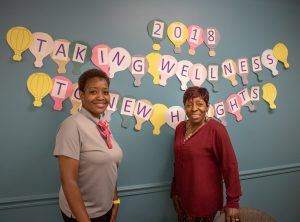 The event featured local experts who gave presentations on a variety of health topics. Schwanna Qualls, LPC, spoke about the importance of maintaining good mental hygiene. "We carry the weight of our feelings around with us everywhere, but it's important to be able to release that some of the time." As Calvary's licensed on-site therapist, Ms. Qualls emphasized how important it is to "get help when you need it, and take care of yourself."
The Roseann Finigan Meisburg Annual Health Fair highlights Calvary's goal of supporting women as they improve and maintain their health. Calvary provides a variety of opportunities for women to learn about health and nutrition needs, including one-on-one medical education with a licensed nurse practitioner. Our Life Skills, Education and Arts Program includes a range of health courses, such as dental hygiene, women's health, and yoga.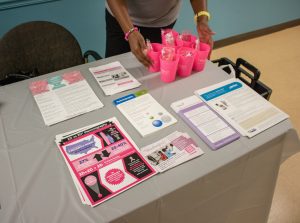 This year's health fair featured presentations from Community of Hope, Whitman Walker Clinic, United Medical Center, Washington Dental Studio, and Grubb's Pharmacy Southeast. Attendees also had the chance to speak with each presenter at their tables during an open floor session.
Special thanks to the Roseann Finigan Meisburg Foundation, a long-time supporter of Calvary Women's Services. This health fair is in honor of Roseann Finigan Meisburg and her legacy of dedication to women's health in the Washington, DC community.