October 29, 2018
Home for the Holidays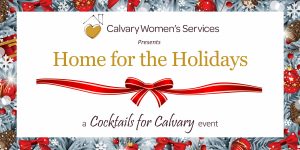 Join Calvary Women's Services for an evening of holiday merriment with delicious food and signature cocktails at Altria's beautiful downtown rotunda. The event will take place on Wednesday, December 5th from 6:00 PM to 8:00 PM.
We'll come together to celebrate the holiday season while also giving back to women in the community who are working to overcome their homelessness.
Enjoy a festive atmosphere amidst incredible views of the National Mall as we highlight the season of giving.
Be sure to bring a friend (or two!). Tickets are $25 each. You'll also receive a discount when you purchase two or more tickets!
The address is: The Altria Group Rotunda, 101 Constitution Avenue NW, Washington, DC 20001
For tickets and more information, visit the event page: Home for the Holidays
If you are unable to attend the event, please consider making a donation.
Special thanks to our host committee: Serena Agaba Rwejuna · Kelsey Cohen · Elisa Davoodi · Kate Donn · Gareth Fox · Adam Hemphill · Allison Johnson · Dee Martin · Shingai Mavengere · Antwuan Wallace · Colleen Wevodau