October 31, 2018
Tarriona "Tank" Ball Visits Calvary Women's Services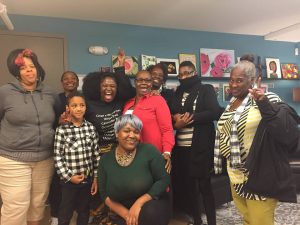 Tarriona "Tank" Ball, an award-winning spoken word poet and frontwoman of the group Tank and the Bangas, took time out of her busy schedule (including back-to-back sold-out nights at DC concert venue the 9:30 Club), to give a performance for women at Calvary Women's Services.
The visit would not have been possible without the efforts of Cynthia, a former resident of Calvary. After noticing an advertisement for the Tank and the Bangas concerts, she immediately reached out to the program team at Calvary and encouraged them to invite Tarriona for a visit.
Cynthia was first introduced to Tarriona's work through her participation in Calvary's life skills, education, and arts program (LEAP). She was hooked from the start. "The message in Tank's music really spoke to me. I was in a period of healing, and her songs really inspired me to keep going."
The day of the performance, women at Calvary and former residents gathered together, eagerly anticipating Tarriona's arrival. While they waited, they broke out into an impromptu poetry reading session. As women took turns reading poems aloud written by each other, Tarriona walked through the door. She was greeted warmly with cheers and applause.
Once settled, Tarriona treated the group to a wonderful performance of song and spoken word. Her songs and poetry stressed the importance of preparing for opportunities and practicing self-care. These ideas fit right into the core values of Calvary's education program.
After her performance, Tank opened the session up for a Q&A. She spoke candidly with the women, sharing personal experiences and the wisdom she's gained along the way. The audience was delighted to hear that Tarionna regularly practices meditation. Women at Calvary have been attending classes on mindfulness and meditation as part of our education programs.
Tarriona also facilitated an activity where she began a sentence and then prompted an audience member to finish it. It was a great way to engage each of the women attending the event on an individual level.
"I was so thrilled to meet her. She made us all feel special" said Cynthia afterward. "Her performance and her discussion were so motivating. I hope the other women at Calvary can find as much strength and inspiration from Tank as I have."