November 11, 2018
2018 Holiday Wish List
This holidays season, please consider donating items from Calvary Women's Services' Holiday Wish List.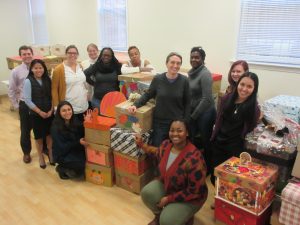 We believe that every woman has strengths and gifts that allow her to make positive changes for a better life. Your donated items will be given to women who are currently staying in our housing programs as they work to build stronger futures for themselves. Thanks to your support we can ensure that every woman coming on site is greeted with a welcome bag including clean linens, a new pair of pajamas and full-sized toiletries.
Consider making a donation of new, unwrapped items, and help us as we support women as they're achieving their goals:
* Gift cards to CVS, Target, Walmart or local grocery stores
* Cookware set 
* Microwave
* Iron
* Silverware set
* Laundry hamper
* Toaster
* Weekly and monthly planners
* Watches
* Umbrellas
* Flip-flop sandals
* Bathrobes (S-3X)
* Slippers
* Pajamas (S-XL)
* Pillows
* Pillowcases
* Twin and full-sized comforters
* Twin and full-sized sheet sets
* Towels
* Washcloths
* Movie passes
* Full sized body wash, lotion, toothpaste and deodorant
* Clorox disinfectant wipes
Please ship or deliver donations to:
Sandrine Uwera, Senior Manager, Community Engagement
Calvary Women's Services
1217 Good Hope Road SE
Washington, DC 20020
Or visit our Amazon holiday wish list page to order items and send them directly to Calvary. (Please include a gift message with your name and address for inventory and acknowledgment purposes.)
To download a printable version of our wish list, click here.
Questions? Please contact Sandrine Uwera at (202) 678-2341 x233 or suwera@calvaryservices.org. Thank you for your generosity!