December 4, 2018
Home for the Holidays: Monique's Story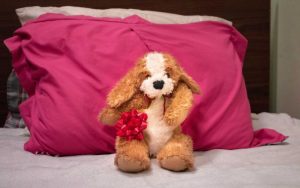 "My first night here I held my daughter's stuffed animal and cried until I fell asleep." The week before Thanksgiving last year, Monique came to Calvary Women's Services.
She was sad because she knew she would be away from her children during the holidays. But she was relieved because she knew she was taking the first step to get back on track and change her life.
Last year Monique unexpectedly lost her husband, leaving her with two small children to provide for. Facing eviction and mounting bills from her husband's funeral, Monique didn't know where to turn. "It felt like I was drowning. I was trying to cope with the death of someone I loved very much while trying to be strong for my babies."
Sober since the birth of her first child five years ago, Monique relapsed. She sent her children to stay with her sister. As things continued to get worse, she lost her job and stayed in emergency shelters. Then Monique learned about Calvary.
Upon moving into Calvary, Monique met with her case manager to create a personalized plan. Their first priority was sobriety. Once Monique was healthy again, her next priority was employment. She enrolled in Calvary's employment program.
After months of job searching, Monique got a full-time job at a department store where she was recently promoted to department manager.
Last month, Monique and her children moved into their own home. This holiday season, Monique will be at home, reunited with her family.
"To be honest, I didn't think I'd survive. But I'm sure glad I did. I am so happy to be reunited with my kids in a new home during the holidays this year."
This holiday season you can make sure that women like Monique have a safe place to live and the support they need to build stronger futures. Will you send a gift today to do just that?