January 9, 2019
Grace's Story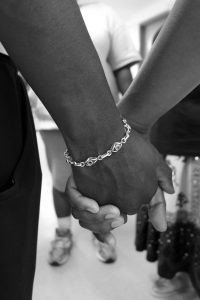 "I was panicked. I had relied on my husband for so much, but just like that, he turned on me. I felt like I was endlessly falling in a deep hole."
Before Grace arrived at Calvary Women's Services, she and her husband had just moved to DC. Her husband had gotten a new job. It was supposed to be a step up, but things changed quickly. Her husband began drinking again and became abusive.
Grace tried to support him, but one night in a violent fit of rage he threw her out. She didn't know what to do. Battered, bruised, and with nowhere else to go, she was forced to stay at an emergency shelter.
Very quickly Grace realized that the shelter was not an environment where she could turn things around.
Overcrowding created difficult living conditions. There were constant noise and commotion, making it impossible to get a good night's rest. The bathrooms were so busy that the water for showers was almost never warm.
Out in the streets during the day, Grace began using alcohol and drugs to cope with the instability. Knowing that this was not a solution, she desperately searched for other housing programs. Luckily, Grace found Calvary.
At Calvary, Grace was able to begin healing and focus on building her future. Along with her new case manager, she developed a personalized treatment plan.
"I could tell immediately that this place was different. It felt like the staff was actually listening to me, like we were working together."
To help her deal with the trauma from her husband, she regularly met with Calvary's therapist. To stay sober, she attended Calvary's daily relapse prevention group meetings.
With her recovery underway, Grace began going to Calvary's life skills, education, and arts programs. She learned how to improve her diet by adding more fruits and vegetables while cutting back on junk foods. She also discovered the calming and restorative practice of meditation.
Grace is now enrolled in our employment support program. With help from staff and volunteers, she is actively applying to jobs, hoping to secure her own source of income. She is looking forward to one day moving out of Calvary into her own apartment, fully supporting herself and living independently.
"Everyone here is so committed to helping us succeed. This was my first time being homeless, but thanks to Calvary I know it will be my last time being homeless."