April 18, 2019
Calvary Women's Services to Recognize Hilton as our Partner of the Year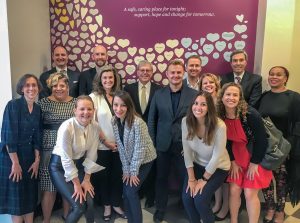 Members of Hilton's Leadership Team during a visit to Calvary 
In light of Hilton's incredible commitment and support of our work, Calvary Women's Services will recognize Hilton as our Partner of the Year during the 18th Annual Hope Awards Dinner.
The event will take place at the Capital Hilton on Wednesday, May 8th from 6:00 to 9:00 PM.
PURCHASE YOUR TICKETS TO THE HOPE AWARDS DINNER
Through the Partner of the Year Award,  Calvary honors organizational partners who have a significant impact on our programs. Whether through dedicated volunteer partnerships or generous financial support, these organizations are integral to our success and our ability to serve more women in the community.
Hilton's commitment demonstrates a remarkable dedication to improving our community and supporting women who are working to change their lives. Their impact on Calvary Women's Services has included the following:
Hilton was an early participant in Calvary Women's Services' on-site employment fairs through the Step Up DC employment program, and Hilton has consistently participated in the fairs as they have grown.
Hilton employees have volunteered at Calvary Women's Services' programs, including hosting an employment bootcamp for residents.
In 2018, Hilton created a pilot partnership with Calvary Women's Services, offering an internship program for women enrolled in the Step Up DC employment program.
Hilton has sponsored the annual Hope Awards Dinner and has donated their popular "Be My Guest" hotel gift certificates for the event auction.
Hilton has both contributed and helped to raise funds that directly support Calvary Women's Services' programs.
Calvary simply would not be able to achieve our mission without the tremendous support of partners like Hilton. We are honored to have the opportunity to recognize Hilton's commitment, and we thank them for ensuring more women have the opportunity to end their homelessness and transform their lives.
During the ceremony, we will also present Congresswoman Jennifer Wexton with our Hope Award. Congresswoman Wexton has worked tirelessly to end both domestic violence and addiction, two primary contributors of homelessness. She is truly a vigorous champion of women's causes. Congresswoman Wexton inspires hope and empowers women, and we are very excited to celebrate her achievements.
Don't miss this incredible event, hosted by reporter Sasha-Ann Simons of WAMU, on Wednesday, May 8th. It's a night sure to be filled with unforgettable moments!