April 5, 2019
Use Your Birthday to Make a Difference for Women at Calvary!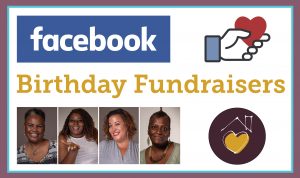 Are you looking for fun, new opportunities to support the programs at Calvary Women's Services and make a difference in the lives of women working to overcome their homelessness? Donate your birthday to Calvary by setting up a Facebook Fundraiser.
Since the addition of Facebook's fundraiser feature back in 2015, individuals and nonprofits have raised over 1 billion dollars through the social media platform. Best of all, it's completely free!
Getting started is easy. Download a copy of our Facebook Fundraiser Toolkit for a step-by-step guide on getting set up, and learn about best practices for getting the most out of your fundraiser.
SET UP YOUR FACEBOOK FUNDRAISER AND SUPPORT WOMEN AT CALVARY!