May 1, 2019
Through Creativity, LaRonda Found Confidence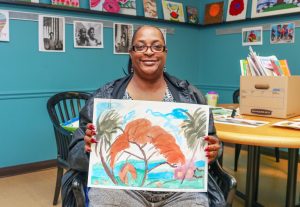 LaRonda, a frequent participant in our life-skills and education program (LEAP) at Calvary Women's Services, has spent the past 5 months falling in love with art. Not only has she developed a newfound appreciation for famous sketches and paintings, but she has also discovered a passion for creating her own artwork.
"This was my first time doing my own drawings, I never had this experience before. The whole process of learning how to draw and paint has really helped me bring out my inner self and experience true relaxation."
One of the goals of our education programs is to expose women to topics and experiences that they might not have had access to before coming to Calvary. When women get introduced to these new subjects and activities, they often gain a sense of confidence that leads to higher self-esteem.
"Since I've been at Calvary I'm learning to love myself more and learning to be more confident. During my time here I've become more comfortable being myself, and I have this feeling that I can do anything!"
LaRonda is very excited to share some of her favorite artwork that she has created during her time here: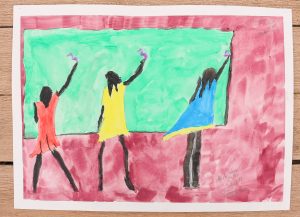 "This is a recreation of a piece by Jacob Lawrence called 3 Sisters. It reminded me of my 3 sisters, I just wish we all could have fit in this drawing!"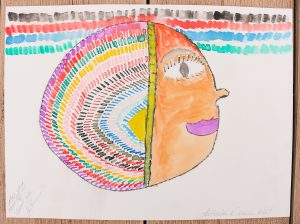 "This is another recreation of a painting by Alma Thomas called Pansies in Washington. Rather than try to recreate the whole thing, I decided to add a face and give it a nice human touch."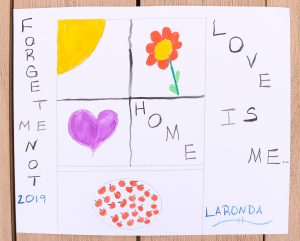 "This is one of my favorite drawings that I've done. The facilitator asked us to create images of what we wanted to see if we looked out four different window panes."