June 3, 2019
Clenitha Comes Home to Sister Circle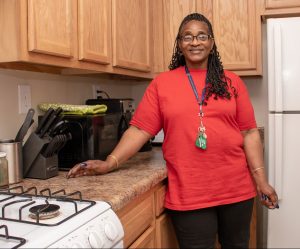 Before arriving at Calvary Women's Services, Clenitha was struggling with addiction and depression. "I was hopeless, homeless, and depressed. I didn't know where I was going to get my help from."
Six months after coming to Calvary she is fully sober, feeling hopeful, and living in her own apartment.
"Calvary helped me get back on my feet. Now I'm in the Sister Circle program and I feel really good about my future. I have the strength to deal with life on life's terms."
The Sister Circle program offers services to women like Clenitha who live independently but still receive long-term assistance. Residents work together with their case manager and get support in maintaining sobriety, addressing mental health challenges, and/or accessing proper medical and employment services.
As part of our growth this year, sixteen women now have access to life-changing services through our permanent housing program. Sister Circle fosters a close-knit community of peer support and sisterhood.
Watch Clenitha and other members of Calvary's family tell their stories in our latest video "What Does Calvary Mean to You":