June 28, 2019
Volunteer Spotlight: Melissa Reinberg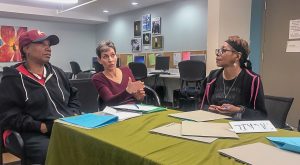 Melissa Reinberg facilitates a weekly negotiation skills class at Calvary Women's Services as part of our education programs. Along with her colleague, Iris Barnett, Melissa leads group activities that demonstrate different techniques and approaches to negotiations that women can then apply to situations in their own lives.
"We think it's important to try to come up with scenarios that are really going to resonate with the women and that connect to the concepts we're trying to promote." 
Because the Negotiations Skills class at Calvary has been such a success, Melissa founded her own nonprofit organization, Negotiation Works. The goal of Negotiation Works is to provide similar negotiations classes at other service organizations that work with vulnerable populations.
We had the opportunity to speak with Melissa about how she got started leading the class, and why she thinks negotiation skills are valuable for women at Calvary.
How did you get started volunteering at Calvary Women's Services?
A few years ago I wanted to add a weekly volunteer activity to my schedule. I began searching online and found a posting for "education program facilitator" at Calvary. With my background as a civil legal services lawyer, a community mediator with the local court, and a Georgetown law professor teaching negotiation, I thought that there must be something I could teach that would be pertinent for the women.
In your own words, how would you describe your volunteer role at Calvary?
I look at my role as coming to present negotiations concepts to the women. We do a lot of games and activities to help them learn what these concepts are and how they can be applied to their own circumstances. 
Can you think of a particularly unique experience you've had while facilitating your class?
One of the role-playing exercises we do is to imagine a scenario at a hair salon where there is a dispute between a client and the salon staff. The women split into two groups to represent both parties, and then they try to come up with methods for resolving the situation. Every time we've done this activity, the women come up with a really great, creative option that both parties are happy with.
I love this activity not only because of the solutions they develop but because it's wonderful to see the women having such a great time working together and laughing together. They're also very proud of their ideas for resolving the situation.
Why do you think a Negotiations class is important for women at Calvary?
One of my students from another class told me at the end of the semester that she learned for the first time that she has the right to negotiate. I think it's important for women to realize that they can respond to a conflict or a difficult situation by saying 'hey, there may be another way to deal with this' rather than simply avoiding conflict or responding in an unproductive way. 
Has anything surprised you while volunteering?
It's been wonderful from the beginning to see the women engage in the class activities – the role plays and the games – and really be willing to open up and take risks. Because the women are so receptive to everything we do during class, it's made it very easy for us to be able to achieve our goals of getting them to take the negotiation concepts and think about how they can apply them to real-life scenarios.
What would you tell someone who is considering volunteering at Calvary?
In terms of volunteering for LEAP (life-skills, education, and arts program), it's an amazing opportunity to teach something that is really important to you while having a very appreciative set of students.