July 12, 2019
Supporting Calvary Through Partners for Tomorrow: Kathy & Teri Doxsee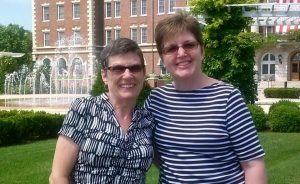 Kathy and Teri Doxsee have made it a point to empower women on a regular basis who are working to overcome their homelessness at Calvary Women's Services. They are members of our Partners for Tomorrow program.
Through monthly, quarterly, and annual gifts, members of the Calvary community who participate in Partners for Tomorrow ensure that women continue to have access to our housing, health, education, and employment services.
We sat down with Kathy and Teri to speak to them about why they routinely support the programs at Calvary and why they think Calvary is such a special organization.
What prompted you to start supporting Calvary Women's Services, and what inspires you to continue supporting the work at Calvary on a regular basis?
Since Kathy was so familiar with the great work of Calvary, it was an easy decision to include them in our charitable giving. We continue to support Calvary because they use their resources wisely, and they consistently strive to grow and improve programs and services so they can impact even more women.
How were you introduced to Calvary Women's Services?
Kathy worked for Calvary in the late 90's and also again recently, so we've seen firsthand how women's lives are transformed through their residency in Calvary's programs.
What would you tell someone about Calvary Women's Services who has never heard of the organization?
Calvary is an organization with a real heart for helping women improve their lives. And the women who benefit from Calvary's services often stress how coming to Calvary has helped them feel not only safe, but hopeful about their futures. They come to see Calvary as a place where people care about them, and that goes a long way to helping women come to believe that change really is possible.
Why do you think Calvary's mission of ending homelessness, inspiring hope, and transforming lives is important?
Calvary's mission makes it so very clear that they really care about the women they serve, and that they want to have a lasting effect on those women. There is a spirit of hope at Calvary that is palpable to all who enter, and that hope is contagious.
Join our Partners for Tomorrow program and ensure women have the resources they need to transform their lives with a monthly, quarterly, or annual gift plan.