August 19, 2019
Cocktails for Calvary – Fall Edition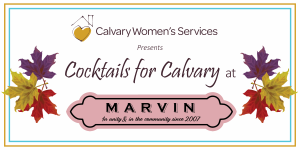 On Thursday, September 19th join Calvary Women's Services for the fall edition of Cocktails for Calvary. The event will take place from 6:00 to 8:00 PM at Marvin, a mainstay of DC's eclectic bar scene located at the heart of the lively U Street Corridor. We'll come together to highlight the accomplishments of women working to overcome their homelessness and celebrate the coming of fall.
Enjoy signature cocktails and a delicious fusion of classic American style hors d'oeuvres with a Belgian touch. Proceeds from the evening will benefit Calvary's transformative programs and support women who are making lasting changes in their lives.
Marvin is located at 2007 14th St NW, Washington, DC 20009
Purchase your tickets and learn more on the event page.
If you are unable to attend but wish to support women who are achieving their goals, please consider making a donation.
Thank you to members of our Host Committee:
Kate Donn · Susan Koehne · Serena Agaba Rwejuna, Esq. · Heather Woods