November 6, 2019
Felicia Recalls Her First Days at Calvary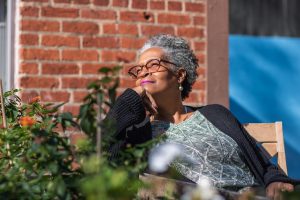 "When I saw the bed made for me I knew I was in the right place. I felt lucky and blessed, and I knew this journey was going to be great." 
Felicia thinks back fondly on those first days when she arrived at Calvary Women's Services.
"From the moment I came in, I felt a loving spirit. How nice everything was, how clean everything was. Everyone was so friendly, I felt the peace. Peace is so important after going through what I've been through."
Before coming to Calvary, Felicia was struggling with substance abuse issues. For nearly 25 years she had stayed sober. Then she lost both her parents to cancer, and it was too much to bear.
She had resigned from her government position to take care of them, thinking that she'd come back to work once her parents had passed on. Family disagreements followed their loss, compounding an already difficult situation. Felicia turned to alcohol to cope with the stress.
"I took one drink and the rest was history. Alcohol almost killed me."
After a period of homelessness and heavy drinking, she was ready for a change. "I couldn't go on like that, it was a nightmare." She decided to enroll in a rehab program. After regaining her sobriety, her case manager recommended she come to Calvary.
"The day I moved in was such a thrill. Everything I needed was right here. The place was so nice, I couldn't believe it."
At Calvary, Felicia hit the ground running. She is an active participant in our education and job placement programs. Every morning she attends Calvary's addiction recovery meetings, strengthening her sobriety.
"I have everything I need – a safe environment, meals, and supportive friends. It's such a blessing."
She looks forward to rejoining the workforce and eventually saving enough money to move into a home of her own again. "I have so much gratitude for being here. It gives me so much hope to go on."
This holiday season at Calvary Women's Services, 30 more women will have a safe, caring place to call home. As we prepare to open the doors to our new housing program, Reach Up, we're reminded of the importance of those first days at Calvary.  Will you help us make sure women feel welcome when they arrive on their first day?
You can donate items from our Reach Up Wish List, ensuring women have all of the resources they need to make lasting changes in their lives. Together, we can empower women to end their homelessness for good.