November 6, 2019
Nearly 100 Women Explore Job Opportunities at Calvary's Career Fair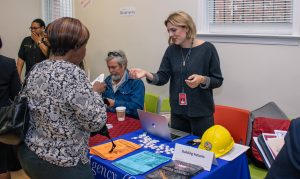 This past October, Calvary Women's Services hosted employers, service providers, and women from partner agencies at our Fall Career Fair. The event was organized in conjunction with our job placement program, Step Up DC. Nearly 100 women from Calvary and our partner agencies mingled with 19 employers and service providers, discussing career opportunities in the DC region.
The goal of the fair was to introduce women to a diverse pool of high caliber employers and organizations. Through one-on-one conversations with the representatives, women talked about their qualifications, distributed their resumes, and explored job prospects.
The participating organizations included:
• Academy of Hope
• BAC1MVD (Bricklayers and Allied Craftworkers Local Union #1)
• Building Futures
• Byte Back
• Colonial Parking
• CVS Health
• DC Central Kitchen
• Donohoe
• First Class Workforce Solutions
• First Transit
• Four Seasons
• Hilton
• Metropolitan Police of Washington DC
• The National Caucus and Center on Black Aging, Inc.
• Sibley Memorial Hospital
• Skyland Workforce Center
• Together We Bake
• WMATA
• Wyndham Hotels and Resorts

According to Ariel Harrison, Human Resources Manager at Donohoe, "The career fair presented a wonderful opportunity to connect with the local community. At Donohoe we strive to hire DC residents from all neighborhoods, and it's important to make sure that Wards 7 and 8 are included in that. I definitely met a lot of people today that I'm going to follow up with – I could tell they had the soft skills that we're looking for in the hospitality industry."
Kathleen, a resident at Calvary, enjoyed the chance to speak with so many employers. "I participate in Calvary's workforce development program, so I've been improving my resume and practicing my interviewing skills over the past few months. It was very exciting to watch the employers read my CV and then talk to me about my qualifications." During the fair, she says she was able to schedule two follow up calls with different employers.
Thank you to the organizations in attendance and the volunteers who made our Fall Career Fair a huge success! Check out more photos from the event here.